Monday, October 23, 2017
• Silver Spring, MD 20910
This is one of several interviews titled: "Women On The Move."
The stories are about women that made their dreams become reality. Women that live the life they want and deserve. Strong women with the focus and determination to pull out all the stops in their life. This interview, Women On The Move - The Food Truck Owner, is about how one woman took a chance to change her life.
My guest: Debbie Ciardo, Food Truck Owner + Chef of La Strada.
You can listen to the interview on itunes or watch it on Youtube, or read it here but read until the end, as we have two bonuses for you.
Women On the Move - The Interview
Heike Yates: Hey guys! I am so excited. I have a special guest today on our show, and it's the owner of La Strada, and I love to call it "Mobile", but it's La Strada food truck, and it's owner Debbie Ciardo.
HY: Welcome to the show and I am so excited to have you here.
DC: Thank you, I am excited to be on your show.
HY: Debbie Ciardo, Italian of course, is the chef and owner of the La Strada food truck. I wanted to find out how she got started to own this beautiful food truck, and why she named it La Strada? So tell us about La Strada!
DC: Oh, well. First of all, it means "The Street," which is a obvious meaning, for a food truck.
HY: Well, not if you don't speak Italian!
DC: But the other meaning is, it's one of the first Fellini movies, called "La Strada". And it had his wife, Giulietta Masina in it, and it's a really famous movie, so …that's why I named my food truck La Strada.
HY: So, the famous movie became the famous Italian food truck, and Debbie is the chef of the food truck. Now, what I was curious about is why do you love Italian food? It could have been Spanish food, or Greek food, or German food since I'm German, right? So, why Italian?
DC: I have a lot of history with Italy. My grandparents migrated from Italy. I really didn't get to know them because they were gone before I grew up. I was really little when they died. But I then had an aunt who married a relative of mine, and she came to live in the States, and she turned me into a total Italophile.
I started going to Italy to her brother's house every summer, and staying with them; he's an architect near Venice, and very interesting. His wife took me to this market every day and we cooked and I got really into it. I was always into cooking, but I really got into Italian cooking at that point.
HY: Oh, so they taught you also how to cook?
DC: Yeah.
HY: Oh, how interesting. Would you cook in their kitchen, or …
DC: Oh yeah. My aunt was a fantastic cook. Eventually I moved to Italy and worked in an aerospace company, but on the side I was learning to cook everything, talking to grandmothers. Later on, I married an Italian and I cooked for him.
HY: Do you speak Italian?
DC: I speak Italian. I have a long history in Italy. My daughter was born in Italy, so she's a citizen; she grew up in America but she moved back when she was 17. She has been living in Florence now for seven years. I go there every year and continue to learn more and more about Italian cooking while I'm there.
HY: Does she love to cook?
DC: No.
HY: Ah, so the mommy comes to cook.
DC: She weighs 98 pounds; she always ate chicken nuggets and peanut butter sandwiches when she was growing up. She's changed now that she is living in Italy and she's getting a lot more into food, but …cooking is not her forte.
Do Italian's Live Longer?
HY: So, why do you think Italians live longer? It seems like they are hearty people, what do you think is the cause?
DC: I just recently read that it's true, Italians live the longest, and there are many reasons. I mean, they constantly think about, if what they eat is good for their bodies. It tastes good too. But, they constantly think, if this affects their livers; they talk about their livers a lot …
Every single thing has a reason, and it's historic, I mean it's been going on for hundreds of years. Italians walk a lot; they don't get in their car, they live in cities mostly and they walk everywhere, so they're getting a lot of exercise.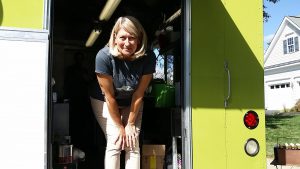 HY: It's a very different lifestyle then here in the States.
DC: Yeah.
HY: That's what I think as well.
DC: And they have a great attitude; they work to live, and they live to eat. So, you know, their whole life is built around food.
HY: And I hope wine too!
DC: And wine too.
HY: Red wine's …?
DC: Red wine is for sure good for you, so ... I try to do my part on the wine.
HY: La Strada is on the road, cooking and serving food. How did you get the idea to start a food truck?
DC: Well, I'm getting up there in years, and I was working for other people. I was not very happy, and tired of being at a desk. One of my passions is tango. I started a business selling Tango shoes and having tango shoes made.I found a shoemaker in Florence who made shoes. I am still in contact with the shoemaker but put this business is on the back burner for now.
HY: So, you got into the shoe business …
DC: I got into the shoe business first, and then I needed something more like full-time, I talked to some friends they suggested; "Why don't you start a food truck; you love to cook". You know, you don't have to put out all the money that you would have to for a restaurant and you don't have to give 100% of your time. You can work when you want. So, I started looking for a food truck.
HY: True entrepreneur.
DC: I found a company that transforms old FedEx trucks into food trucks.
HY: Oh, so this is an old FedEx truck.
DC: Yes.
HY: Oh, how cool. So who painted that truck?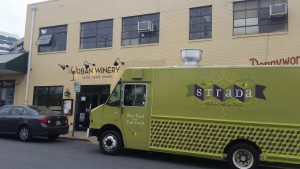 DC: Well it's actually called a "wrap", it's not even painting. It's a system where they have these giant tables and you give them your artwork on the computer. They put the design on these giant strips of like, almost like wallpaper. They place it on the truck, and then they put it in a very hot room, and it goes sshhhhlll! and it just sucks onto the truck. It just can't come off. The company that does the wrap is called: East Coast Custom Coaches. They are fabulous and do a terrific job.
HY: How cool is that? That's very cool.
HY: I always thought a wrap was something to eat, or a wrap of a show, but we're learning something new. So you've got this truck and you wrapped the truck. But you had to buy a stove, I'm assuming?
DC: Well, custom coaches looked at my menu, and designed my truck around what I was going to make. I have a flat-top grill, which is what I use to make Paninis. I have a six-burner stove, an oven and a refrigerator. They designed the whole thing so that I could make my food.
HY: We will check this out in the cooking portion of this program later!
HY: So, now you have your truck. Can I ask how much it would cost to outfit a truck like this?
DC: I would say, with the truck itself and the kitchen build in, plus the wrap, plus all my cooking equipment, plus my initial permits and licenses and all that kind of stuff, would be about $70,000. And that's for a used truck. If you get a brand new truck it would be much more expensive. I mean my FedEx truck was a 1998 that's why it was cheaper.
HY: I couldn't tell that it was an older truck. That's a big chunk of money. You raised the money somehow, you got the truck wrapped and outfitted. What would you tell other women that think, "I want to start my food truck?" What are the biggest obstacles are in opening the food truck?
How Do You Finance A Food Truck?
DC: Well, getting the money probably is the first one. Because nobody's going to give you a loan; that's a problem. I couldn't get a loan from anybody, because I never had a business before.
HY: So, no small-business owner loans, or even first-time women-owned businesses, that's very common here in Maryland where we are.
DC: The Small Business Administration, you have to match what they financially help you with. Whatever they give you, you have to match it and put that money in escrow. So, it's not a gift at all.
HY: Alright.
DC: So that's the first hurdle. Once you get over that, it's just finding places where you can park and sell your food. You know, it's according to where you are in the United States. There are some places like California or maybe down in Texas where there are lots of places to park on the street and there's a big food truck community. I'm in a county, where people are just starting to see more and more food trucks, so the hardest thing is to find places to park your truck for business.
HY: You go usually by word of mouth? Or how do you spread the word where you are parked for the day?
DC: Well, I eventually was able to, in my country there is a thing called "Montgomery County Food Trucks" to spread the word where I am parked for the day.
HY: It's called the Montgomery County Food Trucks, since we're in Maryland.
DC: So I joined that, and through this connection I started getting jobs. Because they post jobs on their website; people can go to their website and just click on you and write you. So that's how I started building my business. And then people got to know me and I had repeat customers.
HY: Very nice.
DC: I highly recommend finding an organization in your town, county or city and join it.
HY: Oh, nice that is a great recommendation.
DC: I found that nobody's cutthroat trying to block you from getting jobs; everyone's helpful.
HY: Oh, that's a good thing to know.
DC: That helps a lot.
Follow Your Dreams - Be The Woman On The Move
HY: What would you tell other women wanting to own a food truck? How would that impact their life? Or how has it impacted your life, opening the food truck?
DC: Well, you know, I'm doing it all by myself. A lot of people have a partner, which really makes it easier.
HY: Sole entrepreneur! Just like, I am here with my business, Pursue Your Spark. We have people that may help us, but bottom line, it's Debbie and La Strada.
DC: It's a lot of hard physical work. You know, I do all the cooking. I load the truck; I have to take everything off the truck at night and put it in refrigerators. So there's a lot of lifting heavy stuff. And the actual cooking, when it's very hot, it's like 30 degrees hotter in the truck than it is outside. When it's 95 degrees outside, it's just ... It's very hot, hard work.
HY: So, it's not as romantic as you see it the movies, they drive around, it's all a happy fantasy.
DC: No. Exactly. Not that movie Chef, where that guy goes across the country and parks his truck everywhere and cooks whenever he wants to.
HY: Many may have seen this movie.
DC: Which you can't do because there's no way you could get all those permits in one day. So it's thoroughly impossible.
HY: Remember ladies, it's just a movie!
DC: Yeah, it's just a movie. And also, the hardest thing is keeping good employees. Because you're paying a low wage, and it's young kids that take the job. I usually use them just a cashier, and you know, they don't show up; it's hard to get good employees. Really, really hard.
HY: Yeah, I can see that it's difficult.
DC: I don't even have anything to tell you about how you get a good employee, it's just kind of luck.
HY: How do you stay fit and in shape for your food truck?
DC: Standing all day and I live on the third floor of an apartment building with no elevator so I'm carrying stuff up and down, up and down. That builds up a lot of strength.
HY: Your job provides the exercise.
DC: I actually feel like I've built up some resistance to the heat, and to the carrying heavy things. I've probably got some more muscles. So, you know, what doesn't kill you makes you stronger.
HY: Hey, that's definitely a way to look at it. No gym, you've got everything right here. Now, what would you say the best thing about opening La Strada was?
DC: The best thing is not having a boss.
HY: Yes! I totally agree.
DC: The best thing is being in charge of your life. And that was one reason, that a food truck was good for me, because then I can be off when I want to be off; I can be on when I want to be on. I'm able to visit my daughter for five weeks in the winter.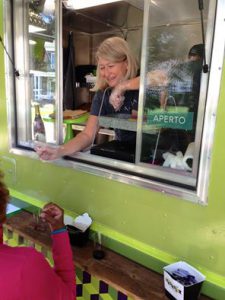 You know, if you're in a climate, like California or Arizona or somewhere you can keep your food truck open all year. In this area in Maryland, people pretty much close for December, January, February, and even part of March.
HY: Are you saving money for the time to travel?
DC: Yeah.
HY: Oh, that's wonderful; that's exactly the spirit of an entrepreneur! You work when you have work, when you want to work, and make tons of money, hopefully.
Or at least a decent amount of money, so you can afford the things you enjoy doing, like, Debbie likes to travel and to cook. What is your favorite Italian dish, Debbie?
DC: Oh goodness. First of all, I have to say, there's no such thing as Italian food. Because, it's completely regional. If you eat one thing in Venice, you're never going to eat it in Florence or Rome. And I lived everywhere; I lived in Rome, I lived down in Puglia, I lived in Venice, I lived in Torino way up in the north …
HY: Okay, get the map out, if you don't know where that is. Or, just start eating your way through Italy.
DC: It's from head to toe. And each place has a dish that I love. So, it would be really, really hard for me to pick one.
How Do You Cook On A Food Truck?
HY: Today, we're also cooking in your truck.
DC: Yes.
HY: You said you're going to make a creamy asparagus pasta for us today.
DC: Yes. You know, with pasta you can put anything on it, so one thing I want to show people is just the whole idea of how you make the pasta, in general. And then, you can top it with, if you have zucchini sitting there, or carrots, or any kind of vegetables, or ground beef, whatever you want, you can put it on pasta. It's just, you get it right if you really want to make pasta the way the Italians do. And I'm going to show you how to do that.
HY: Now with we are talking carbs. Italians are not afraid of pasta and carbohydrates?
DC: No. Not at all.
HY: Why is that?
DC: Oh my gosh. If you walk around Italy, it's not like in the old movies with the big Italian ladies. I mean, these women are tiny and they eat pasta every day. So, there's nothing wrong with eating pasta.
HY: So, no carb-phobe here, ladies. Debbie and I are going to head in the food truck, but I want to thank her for coming on the show today and sharing the experience of owning a woman-owned business, entrepreneur, La Strada the Italian food truck.
HY: You ready to go?
DC: Great, ready to go.
DC: Arrivederci!
HY: Ciao!
Watch the Youtube cooking video, to see how Debbie cooks the perfect Italian pasta and what's happening inside an Italian food truck. Click the link below to get the pasta recipe.
To reach Debbie Ciardo: lastradamobile@gmail.com
-Heike
Save
Save
Saturday, October 07, 2017
• Silver Spring, MD 20910
This year's training goal was determined by my son's wedding in October. I'm just like any other mother of the groom, and I want to be in shape for my son's special day. With this goal in mind, I picked a big race that was close to the wedding date to keep up my training as long as possible. This year my training was a bit sluggish, and my fall in March set me back about two months. As soon as my ribs were healed, I started training with 2 swim workouts, 2 bike rides, and 3 runs per week. All of this training culminated in my final race of 2017 – the Waterman's Half Triathlon in Rockhall, MD.
The distances for a half triathlon are: 1.2 mile swim, 56 mile bike ride, and 13.1 mile run. It's the same distance as a half Ironman, but a different company puts on the race.
— Saturday, September 30, 2017 —
My husband and I arrived at the race site at 6:30 A.M. and put our bikes in the designated slots in the transition area. We set out our gear according to the progression of the race (swim, bike, run), this way it's easy to get the right gear without searching through everything you brought. (My bike and set up is on the right. Some people bring buckets to sit on during transition
The Swim Start
Before the 8:00 A.M. start, we put on our wetsuits and then walked to the start line. You start in separate heats determined by your age group.
To start, I will say the swim course was a complete mess. There was an out and back, followed by going around a square two times. Racers swam into each other on the out and back, and then again around the square. The buoys weren't clearly visible nor was the finish line.
In addition to the mess of the course route, there were also tons of little jellyfish. At first you think it's a piece of seaweed, but then the softness is replaced by a hot, shooting pain. Once the venom is injected into your skin, the pain, redness and blistering begins. I was stung several times on my arms, but had to keep pushing forward to finish the course.
The Bike Start
Finishing the swim, I climbed out of the water onto a boat deck and jogged towards the transition area. It was a chilly day in the mid 50's, with 18-20 mile per hour winds. I decided to put another shirt over my wet triathlon suit and add arm sleeves to protect my arms from the wind. I put on my bike helmet and then started on the 56 mile bike route.
During the ride my chain fell off twice which was extremely frustrating. In addition to this, refilling my front hydration bottle was difficult because of the strong winds. I had to stop to refill the bottle, something I usually do while riding. My Garmin, a device I use to track my race progress, stopped working, and I had no idea how long I was out there riding. Nevertheless, I continued.
The Run Start
I crossed the bike finish and ran into the transition. There, I traded my bike clothes for my running clothes. I put on my running belt with my nutrition already in it for the run. I always carry my nutrition with me. Why? I have trained with a specific mix called Infinit Performance Nutrition; this product is specifically mixed based on my training needs for this kind of race. I don't have to rely on what is offered during the race and can avoid stomach issues that may be caused by the provided food.
The run was three loops which totaled 13.1 miles. I felt strong despite the fact that I had not trained as hard as I initially planned. This was the time when I thought, "Oh well, just finish and it will be fine." Especially because my initial goal (I can confess it now) was to not be last in the swim…again.
The Finish
Running into the finish I saw my husband. He hugged me and then told me that I placed second in my age group! Can you imagine how surprised I was? In addition, I finished third in the swim, third on the bike, and first on the run, in my age group. I can't tell you how pumped I was to accomplish this. Maybe it was because I was angry at the jellyfish stinging me, or that I was really angry at the strong wind. Either way it was amazing and the results were fantastic! I couldn't be happier.
It was a hard race no doubt, but it was the last one of the year. Next up…the wedding!
-Heike
Friday, October 06, 2017
• Silver Spring, MD 20910
This is the first of several interviews titled: "Women On The Move."
The stories are about women that made their dreams become reality. Women that live the life they want and deserve. Strong women with the focus and determination to pull out all the stops in their life.
My first guest: Patricia Scott (50)
Ultra runner, Mother, Wife, Full-time Nanny

You can listen to the interview on iTunes or watch the video on Youtube or read it here on my blog.
Women On The Move - The Interview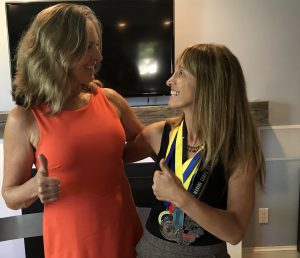 Heike Yates: Hi everybody, Heike Yates here. I'm so excited to welcome a new guest to my show, Patricia Scott. We've known each other for 10 years and we met through running. Patricia is a single mom who moved from France to the US, and she is also a full-time nanny. That's an unusual job, and we'll talk about that a little bit later in the show, but she's also an ultra-runner. So welcome to the show Patricia!
Patricia Scott: Hello! Very happy to be here.
HY: So tell us, why did you move out of France, and when?
PS: I moved in 1988 because I wanted something new. More challenges, adventure, and to be on my own a little bit. I'm the fourth of six kids, so I wanted to be me instead of just a middle child.
HY: Cool! When you came here, what year was it?
PS: 1988, I came for one year originally. That was the plan, as an au pair, but I ended up staying over 30 years.
HY: So when you first moved here, where did you go first?
PS: Arlington, Virginia. I was a little shocked because I was surprised it didn't look like New York City, but I acclimated really well. Then I started as a nanny and moved from family to family. I even lived in LA for six months before I came back to Virginia.
Mother and Athlete
HY: You also have a daughter, Rochelle. How old is she?
PS: She is now 23. She's the best and I raised her on my own; a single mom.
HY: How did you do that, being a nanny full time and having a daughter that you raised on your own? Was she part of the family or how did that work out?
PS: I brought her with me to work so that was perfect. That's why I've been a nanny for so long. It was a struggle at first, because not a lot of families wanted to hire a nanny with a child, but it ended up working out. She also fit right in with my workout after work. I bought myself a treadmill and I bought her a little tiny one pound dumbbell. So I was running on the treadmill for an hour, or a little over an hour. It was anywhere from five to seven miles almost every day.
HY: Wow, five to seven miles. Now that's a lot of mileage for most of us. Being on the treadmill can be really boring, but I think it's really fun that you have your daughter, Rochelle and have her workout there next to you.
PS: She loved it. She was jumping, pretending to run, it was a great time. Then a little further down the line, when she got older, she was following me with little tiny bikes.
HY: Tiny little bikes! How cute is that? Were you active as a kid?
PS: Yes. We had to in France, especially in my family. My dad was not the type of dad who'd drive us everywhere, so we had to manage to do it. We walked to school; so twice in the morning, twice in the afternoon because we came home for lunch. After lunch, since I have a half an hour, I would jump rope.
HY: Oh my gosh.
PS: Yep, 30 minutes.
HY: Talk about the athlete over here. Most of us would eat lunch and take a nap.
PS: I would also bike to the store or walk to basketball practice and back again. We walked to the lake, which was about six miles.
HY: That's a very European lifestyle. We've both been here a long time and we both find that a lot of times people drive too much. People don't move enough, but in Europe everybody walks or bikes everywhere.
PS: Yes. My mother didn't drive so we didn't have a choice but to use our legs or whatever we had.
HY: Now since you have legs and your legs have carried you a long distance, what started your interest in ultra running? Or let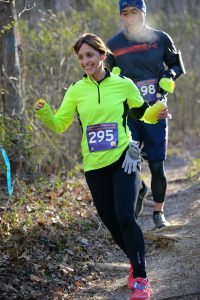 me back up a little bit. There's casual running, then there's marathon training, and then there are ultras. Explain to us the difference between those types of running.
PS: I got into marathon running because of my younger brother, who I ran the Paris Marathon with in 2004. He dared me to run the New York City Marathon if he came to the States. I didn't know what the marathon was so I asked him how many kilometers and he said 42 (26.2 miles). I'm like "What!?"
HY: It's definitely a long distance.
PS: Then after that I joined the Montgomery County Roadrunners Club, which is one of our local running groups, and from there I started to train, and I met you in the First Time Marathon training program.
My first 12 miles I was on top of the world because it was like "Wow, I did it." I wanted more of that and I really enjoyed it. Then I ran my first marathon. I didn't like it when I finished, but a week later I'm like, "Okay, what's next?" Then a couple of marathon's later, I heard in the group there were a few runners who were talking about the JFK 50 Miler. So I asked what was the interest behind it. I'm like, "Hmm, why not? That's a challenge." I asked about the training. They basically told me, "Not much. You do two marathons back to back at most and then you add a longer run."
A Woman With Determination
HY: Okay. So you run 26.2 miles and you go, "whoop I just add another 10, 20 miles on top of it and you're done." The JFK foot race is one of the very well known 50 mile races here in the Washington, D.C./Maryland area. Simply, Patricia took on the task of doing this race by putting her mind to running another set of miles.
PS: There you go. I did another extra long run on the weekend, and then went from there.
HY: That's very interesting. How long would it take you to run that distance? Most of us are familiar with shorter distances in mileage, but how long would a marathon take?
PS: For me, I really wanted to do at least four hours. If I could do under, that was even better. Since it was my first marathon, our coaches said, "Don't worry about the time." But I'm a very competitive person.
HY: Yes she is.
PS: I really wanted to do four or under and I did 3:56. Not bad for a first marathon.
HY: Very good for a first. This was a road race on cement, right?
PS: Right. Which is very different than a marathon on trails.
HY: On trails meaning what?
PS: No concrete. It's dirt and roots and it's basically an obstacle course. It's hilly. You may walk for some of the hills and that's okay. If a road marathon would take me about four hours, a trail marathon will take me about five hours.
HY: An additional hour.
PS: Right. Depending how technical. When I say technical I mean by roots and river crossings. It depends on all that and how familiar I am with the trail. The more you practice on it, the more you run on it, the faster you can go and the faster you can finish.
HY: Nice. Can you think of one training example that was just very different than all the others that you would say, "Oh my God, I can't believe I did this."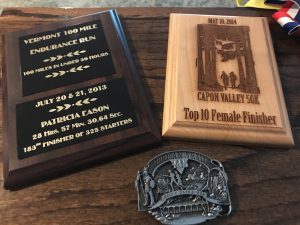 PS: That's funny that you mentioned that. From the 50 miler I went to the 100 miler, of course.
HY: Just another step up. Double up the mileage.
PS: For that I went to friends who had ran at least one or two 100 milers because I really wanted to hear their feedback. Of course advice varies from one person to the next, but one person in particular who ran a few advised me to go beyond 30 miles as a training. So I had ran 20 miles the day before, for my marathon training and the next day I ran 40 miles.
HY: Jeez, can you imagine that.
PS: My daughter biked alongside me for 30 miles, which was helpful.
HY: So Rochelle had not become an ultra runner.
PS: NO.
HY: She's just looking at her mom, shaking her head. She would rather play soccer. As competitive as her mom, but running is not her cup of tea.
PS: No, it's not her cup of tea whatsoever. But that day I almost quit a couple of times because I was on my own. At mile 30 she said, "Mom, you do your last ten miles on your own." I would kind of cry at some point, but when I finished I was like, "Okay, I think I'm ready. Mentally I think I can finish my first 100 miler."
HY: You made a good point. The mental toughness that you need; I cannot image. My longest distance was the JFK 50 miler and that required not only solid training, but the mental toughness to suck up the pain, to ignore the blisters, to maybe throw up by the side of the road because your nutrition is not sitting well. These things happen.
PS: Yeah. That day we started at 8 AM and I was on the trail until 5 PM. It was a long, long day, but it was worth it. I was ready when the race came along.
HY: So how does it work with working as a full time nanny? How do you squeeze in these long days of training?
PS: I usually reserve those long runs for the weekend. 20 and 30 miles would be Saturday and Sunday. During the week, when the girls were at school, I was just doing it as much as I could when they were in school. So first thing in the morning or while they were at soccer for example. I would actually do my first run in the morning while they were in school, then I would pick them up, go to soccer. While they were practicing for an hour and a half, I was going on the trail for that long. I would have two workouts done that way. When I couldn't do it because the girls were sick or because it was summer vacation or spring break, then in that case it was before they got up or after they went to sleep. That was challenging because at 7 PM nobody wants to go out to run.
HY: When you think about that you're out there for hours and hours on end, what time would you be trying to finish a 50 miler in?
PS: A 50 miler, you have 12 hours to finish. The first time I finished it, because I had no clue what I was doing, it was 10 hours 45 minutes and it took me three tries to finally break ten hours.
HY: Break ten hours. Holy smokes. Then as you go to a 100 miler, what then?
PS: You have to finish it in 30 hours.
HY: 30 hours.
PS: When you go to an aid station, there are cut off times. They weigh you, which really made me paranoid.
HY: Oh. Why would they weigh you?
PS: They weigh you the day before the race starts, in the afternoon, then randomly on certain aid stations. If you lose ten percent of your weight, then it's a red flag and you might be disqualified and they pull you off of the course. Or if you gain some weight, that means your kidney is not functioning properly and that's another red flag and you might be pulled off of the course as well. The first 100 miler I did was Vermont and my husband, who's my crew (that means he carries my bag from aid station to aid station. We do not sleep. I do not. I don't want him to sleep either.
Nutrition Is Key
HY: When you train for a 100 miler, we're talking ultras. Let's talk about 100 milers, because this lady is doing nothing else but marathons and 100 milers. How do you train food wise for a race like this? As we all know, the carb load. We eat lots of pasta.
PS: Right. Which is my thing. I try to eat as much as I can during my training run, which is very little and I'm still struggling with it. I'm really only eating bananas because they sit well in my stomach. I try to have crackers and peanut butter; pretzels are also good. Chips for the salt are good as well. Gu, which after 20 miles I don't want to even hear that word.
HY: For our listeners who don't know, what is Gu?
PS: Gu is an energy product that gives you a little sugar, electrolytes, and caffeine.
HY: So the body can metabolize it easier because it comes as gel like form. You can just squeeze it in your mouth.
PS: Or you can use the chewable version.
HY: Okay, so for the preparation, you don't really eat anything different than what you normally do. You don't pack on pounds before the race. You are a certain weight when you start out.
PS: No, I never bothered to do any of that. I don't really change my diet much except a week prior, I cut out certain foods like fruit and vegetables. Not as much the week prior, and then two days before the race I will not eat any because I don't want go to the bathroom.
HY: As you're running the race in the middle of the nowhere and your husband is at one of those aid stations. What do you eat and drink then?
PS: Oh I have a hydration backpack, which I carry. I put a couple of chips or pretzels in little tiny bags. My last 100 miler that I didn't finish, I tried a new thing. Instead of eating chips or pretzels I ate pieces of French baguettes, but that didn't do me too much good. Usually I carry a couple of bananas in my backpack too. The aid stations are usually an hour and a half apart.
HY: But you have food when you get to the aid station. They have all kinds of stuff.
PS: Oh it's fabulous. You can sit down and it's everything and anything you want. From burgers to soup. Who does that? Not me.
HY: I love peanut butter and jelly sandwiches personally. That's my favorite.
PS: Funny that you mention that. That second 100 miler, it was about two hours before the finish, so I had been on my feet for more than 25 hours. I was tired of bananas. I was tired of Gu. I was tired of chips. But there was peanut butter. That was the last aid station and I'm like "Why not?" And that gave me that kick I needed to finish.
HY: Peanut butter and jelly sandwiches on white bread, is the kicker for me too.
PS: Right.
HY: When you are out there, you have food stations and places to get Gatorade and whatever else. But being out there for 30 hours, what do you wear when you go on a trail?
PS: That depends on the weather. If the weather is going to be close to 60 degrees at the end or towards the middle, then I make sure not to overdress. My first 100 miler was in July. I wore shorts and was perfectly fine. We had a little bit of rain, but I never changed. I was fine except for my shoes. My husband had a couple pairs of shoes with him for me to change into. It had rained a couple of weeks in Vermont so the terrain was extremely muddy. I had just changed my shoes and as we entered the trail again, I got mud all the way up to my ankle. It's heavy, so I had to change it again. My second 100 miler I wore the same shoes. If it doesn't bother you, if you don't have any blisters, then don't touch anything. Leave it be.
HY: They have aid stations too, if you have blisters or are getting chaffed or any other issues. Most of the aid stations have first aid.
PS: When I did The Mohican 100 Miler, they didn't have any aid stations so you were basically on your own. Because it was on trails and if something happened then you'd be alone. I know a few runners who had to pop their own blisters! I got lucky and was fine. After a while of course you have aches everywhere.
HY: One question that I know a lot of women want to know. What do you do when you need to use the bathroom?
PS: Okay. For me, if it's number one, I find a big tree. I usually go off trail a little bit, to be a little discreet. I have no problem doing that. Now I'm freaking out about number two. I have not yet had to do it. Fingers crossed it stays like that.
HY: You never know. That's why you're changing your diet before your race.
PS: Right.
HY: So no fiber, or very little fiber.
PS: A couple of days prior to the start, yes, I do not have any fiber to minimize the likelihood of that happening. I do everything possible. You hear stories but so far so good.
HY: I'm just envisioning out in the woods. I have no problem putting my behind in the woods, but sometimes it can be a little touchy feely right.
PS: You go a little further I guess and then find a tree.
HY: Okay. Let's move on. Tell me about some of the obstacles that you had to overcome in your training, whether they're injury related or weather related, because you're spending a lot of time out in the woods training. Let's talk about what happens when it's a big snowstorm, for instance. What do you do then? Shovel snow?
Nothing Can Stop You = Determination
PS: So weather related, that could be an obstacle. If the roads are icy or there's too much snow, that could be a problem. You can go to the gym and run on the treadmill. One year, I had to do a 20 miler and in my neighborhood, someone had shoveled about a mile clear on the sidewalk. I did back and forth for twenty miles. It took me over three hours. My neighbor was a little worried, so he came out and wanted to know if I wanted anything. My daughter thought I was insane. I felt good afterwards and sat down on my couch with my hot cocoa and watched a movie.
HY: Up and down. 20 miles. Oh my God. Well that is incredible.
PS: I went into my head; it was just me and my thoughts. I went completely into my zone.
HY: Do you run with music on the trail?
PS: No, I do not. Not on the trail at all because I want to be aware of safety. Safety is a big concern.
HY: We both see a lot of women runners that are ignore that and run with headphones in.
PS: Oh yes. And I'm already in a zone by myself with no music, so if I add music I'll be completely out of it. I actually stopped running with music for almost ten years when I heard stories.
HY: Especially when you're out in the woods too, there's not a lot of people there.
PS: No there's not. I did 12 miles on the trail by myself last weekend. I only encountered a family biking on the trails, but other than that there was nobody. I know the trail really well but it can be kind of isolating.
HY: So injuries. You must have some injuries.
PS: Unfortunately I do. I'm just recovering from tendonitis. If you cannot run that many miles, then you're on the bike cross training. Elliptical is another one because there's not as much pounding on the legs, but it doesn't give you the "runner's high."
HY: Do you support your ultra running with other types of exercise?
PS: Try to yes. I try to lift weights twice a week, and I take a spinning class as well. Sometimes I don't when my mileage increases and I have to run twice a day. When that happens, instead of doing twice a week of lifting, I do once a week. If I cannot go to the gym and do that, I try to do push ups. Anything on the floor with my own body weight basically.
HY: Ah. No equipment needed. You don't need to go to the gym.
PS: Yes. Your body. Yes.
HY: Now. One question I have. So there she is; she's running hours and hours. She has a daughter. She is a full time nanny and she has this hot husband. How do you manage all of this and how do they support you?
PS: Starting with my daughter when I started ultra running, she was a teenager. She was finishing high school, then she went away for college, so that was not really a problem. Will, he's a former bodybuilder and is an exercise physiologist. He spends as many hours at the gym lifting as I am outside running.
HY: Oh that's very convenient.
PS: Right. So he does one and a half hours in the morning and one and a half hours in the afternoon. We each have our passion,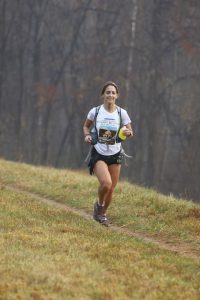 which I would advise, for anybody who wants to keep up going with what they like. It works. As a full time nanny, I just work around it. Early in the morning, so I'm up at 4:00, met a group at 5:30 AM on Thursday and run for 10 miles with them. I do it on my own as well. Pretty much every morning around 5:00, 5:30 I'm out the door and do that. If I don't have time in the morning, then I'll split it into two separate runs so I get all the miles run that day, but don't feel rushed in the morning.
HY: That's one of the questions I sometimes get too is, if you run long distances, is it okay to split it?
PS: Absolutely, yes. I would advise even sometimes it's better than to try to squeeze 10 miles and risking injuries. When I'm training for ultras, which is very different than training for a marathon, the pace is much slower. You don't want to rush it and if you cannot run 10 miles that morning, then six in the morning and four in the afternoon and sometimes you can go beyond, which can happen. You end up having more than you had planned. So splitting is okay.
HY: What is your personal biggest challenge while running long distances? What is it that you have to do to get better at, or to learn better, to do more?
PS: Oh. Nutrition is a big thing. Hydration as well. I'm not a big eater to begin with, but I try to be better at it. I'm working on it and it's not easy but I was told by you, my great advisor, that the more you eat the more energy you have. Multiple times I encounter runners in those long races, especially young women, who are on the course of finishing under 24 hours, which is huge in ultra.
HY: Wow. And that was a 100 miler, right?
PS: It was a 100 miler. Because she didn't eat properly she got sick and couldn't keep anything down and she had to quit at mile 80 or 85. So it's very important to eat properly to keep your energy up because you will eventually hit the wall.
HY: That means you run out of glycogen.
PS: Then you need something to pick you up. Another thing that I like to do in an ultra is to drink a Coca-Cola. The full sugar one, no diet. I don't drink it at all in my regular lifestyle, but it really hit me during those ultras. So that's a must for me.
HY: Coca-Cola I found too when it's flat. There's no bubbles.
PS: Right. They leave it on the course in little tiny cups and I just drink it.
HY: That sits well with my stomach too. Now you have some goals that are coming up. I'm so excited because I'm hoping that if we get to those goals, that I can help you.
PS: You did promise me that if I get into Western State 100, you would be pacing me after mile 70.
HY: So I'll be running next to her for 30 miles.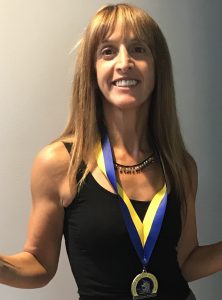 PS: Right. But to get to that part, I have to run a 100 miler that will qualify me to enter the lottery for Western State. I've done two of them. Unfortunately, I was not lucky and because last year I tried to finish the Massanutten Trail, Virginia 100 miler and I bonked completely at mile 54 and decided to quit. I'm back to square one. That's not for this one. I'm going to sign up again for Massanutten Trail 100 in December. The race is in May. This time I will train properly. Meaning I will go to all the training races, which I did not do that.
HY: Lesson learned.
PS: Lesson learned. Again enter for the Western State, crossing fingers, hoping. Then my biggest, biggest, biggest one is UTMB Ultra Montblanc in Europe. It starts in France. We go to Italy, Switzerland and back to France. This one, it's really out there and you need to have points. Even when you apply all these points, through the lottery in the likelihood. I'm hoping to get in before age 55.
HY: So Patricia hit her 5-0 not too long ago.
PS: 50, yes. Last month.
HY: She has so far not dealt with any hot flashes or any menopausal side effects but that's also a little tricky because as endurance athletes, we often times don't notice when we're changing, when you may have a hot flash because we're running. We're hot all the time. We're sweaty all the time. We are often times fatigued from the races we do or the training.
PS: Right. So we don't really associate both of them. But so far so good.
HY: Well, we'll keep you posted on Patricia's progress as she hopefully gets to the Western States or even Montblanc. But I want to finish today and ask you, I'm sure a question everybody wants to know. What would you tell other women that consider getting into ultra training?
PS: Work for it. I really must say, it's really a man's world out there still. We're very limited on women. I would say ten percent of the field is women, but be prepared and don't be afraid. You have to put the work in. You need hours and hours on trails. And be prepared for anything - mud, crossing of any streams. Some days it will be fun. Some days you will hate it. But it's okay. It's okay to walk. It's just another approach and you'll love it. It's just a different training by far.
HY: Yeah. Being out in nature, on the trails. People are so super friendly I find. Everybody.
PS: Oh camaraderie that is so different than the road races.
HY: Yeah. It's not about flashy clothes. It's not about fancy shoes. It's about hitting the trail, persevering, friendship, helping each other out.
PS: Oh by far and everybody's willing to give you the best advice. There's competition. Don't get me wrong. Competition is out there, but they are so willing to give you advice, just to help you to go further. So women, go out there.
HY: I agree. We need more women in ultra running. I can only wholeheartedly agree with everything you've said about the training, the nutrition, and it does take time. Women our age, and I'm 56, we're changing things as we move along. Our lives are changing. I find the kids may have moved on, like in our case, and we have more time to do something new. It may not be an ultra, although we both encourage you to check it out.
PS: Yes.
HY: But we have an opportunity to do different things in our lives, to explore something that we may have just heard about. Whether it's ultra running, skydiving, traveling the world, cooking a new meal, or learning a new skill.
PS: The sky's the limit.
HY: So I want to thank Patricia for being here today. This was a lot of fun.
PS: It was. I loved it.
HY: So Patricia is also a certified running coach. I will leave her contact information in the show notes so you can contact her if you have any questions about ultra running or need ideas or advice. She knows her running inside and out, from a short distance to a long distance and how to approach it with the loved ones in mind. So with that we're outta here.
For training inspiration and tips contact:
Patrica Scott
Email: pcaleas@yahoo.com
Shoes Patricia swears by:
Asics Nimbus 18 shoes for road running
Cascadia Brooks for trails
Patricia's top picks for clothes:
Nike, Asics, and Under Armor (short and singlet)
Friday, September 22, 2017
• Silver Spring, MD 20910
This morning I wanted to spend a little bit of time with you talking about the good, the bad, and the ugly. You may be wondering, "the good, bad, and ugly… of what?" Chafing.
If you are an active woman that is outdoors exercising a lot, you know what I'm talking about. This morning, I'm going to have a little bit of coffee and hang out with you and share my experiences. The battle wounds I've incurred with my training have given me some solutions to spare you from those same battle wounds.
I know when I sometimes come back from a training workout and I look in the mirror and I think, "Oh my god, what just happened to me?" I have cuts, bruises, blue spots, blisters; it's awful and it hurts. Why do we get these chafe marks?
We wear these beautiful wick-away synthetic clothing that is supposed to help us not chafe, right? But as you start sweating, the clothes get wet. The skin starts rubbing against the wet material, causes friction, and gives you those ugly, crazy red marks, bruises and cuts.
Now, what are the main spots where we chafe?
Under the bra: This is the number one chafe area for women. You have your beautiful running bra, and your heart rate belt under it. All of this rubbing of skin and different materials underneath your breasts can cause chafing.
The groin: As the legs rub together (which can happen no matter the size of your thighs), you start feeling the friction caused by your shorts, legs, and sweat.
Under the arms: Where the arm hits the material on your side.
Now, as a triathlete, I'm dealing with additional rubbing and chafing spots. If you are a runner you can skip down the article, but I am going to start with how to protect yourself from chafing as a triathlete.
So as you are preparing for your swim, you start with getting into your wetsuit. Many people use a product called Bodyglide to reduce chafing, but I have found that it does not stay on as long as I need it to. Instead, I use a product called Five Hour. As I've mentioned in previous posts, I am not a strong swimmer. I am out there for awhile, sometimes much longer than everybody else. However, I have found that the product called "Five Hour" lasts much longer in the water and prevents me from chafing. Make sure to put whichever product you choose around any opening in the wetsuit - ankles, neck, armpits, wrists - everywhere!
When I am racing in a triathlon I wear a tri-suit, which is basically a running shirt and bike shorts all in one (it looks a bit like a leotard for anyone who has never seen one). My tri-suit goes underneath my wetsuit, so it does get wet when I am doing the swim portion.
As I'm coming out of the water I start transitioning into the bike phase. Chafing can easily happen anywhere since everything is soaked. You want to make sure "down there" especially does not get chafed while on the bike. However, from my experience, there are two areas that need protection - the first being the groin, and the second being your toes. Yep, your toes! Your toes may be wet in your bikes shoes as you're hustling through your transition, and the moisture can start to rub.
Take Care Of Your Body = Prevent Chafing

In the past, I have sucked it up and focused on racing and let my toes and groin chafe. However, over my many races I have figured out my number one trick to help prevent chafing. Vaseline. Yep, good old Vaseline. It is a lifesaver for your toes, and it really stays on even through the swim portion. For your groin, I use Docs since it feels fresh, stays on for a long time, and comes in a little pouch you can carry in a pocket during your ride. You can apply this product on all of your chafing spots and it REALLY helps during races.
Then, finally, you transition into the running portion of your triathlon. For runners there are three main spots that get chafed. First, the underarm. Get these guys all lathered up with whatever product you're using. Second is your lower back where your running belt sits, cover it with whichever product you choose. Finally, your groin and inner thighs. At this point you may feel like you've covered your whole body (which is okay!). When I am transitioning into my run, I re-apply the Five Hour stick and the Squirrel's Nut Butter (another terrific product to prevent chafing). This prevents chafing in all the areas I mentioned above.
Next you need to find the best running clothes for you. Ask your friends what works for them, or leave a comment below and I will let you know what clothes I prefer.
Your Cloths Can Help Stop Chafing

When I first started running I used to wear loose and comfortable shorts (you know the typical "running" shorts). Initially they were great, but after many races they started chafing in different areas. Then I found out the seam hits right where your inner thighs touch. Once sweat and water starts accumulating, the chafing starts and it is chafing like there's no tomorrow. It hurts so bad and it won't stop. These were not the right shorts for me, so I found ones that did work for me.
Then think about the distance you want to run (or bike or swim) that day. If you're going out for a three-miler your chafing may be kept to a minimum. If you're out there for 20 miles on a hot and humid day, you may be chafing and it's super painful. Think about the products that you like. There's a ton of stuff out there. Being a triathlete, all my friends have their own favorite product. Try out a few different products until you find the one that works for you.
You chafed now what?
Finally, here is my number one secret to help with what happens after you chafe and think, "Oh man, I have all these nicks and cuts and bruises. How am I going to survive a shower??" Use diaper rash cream. Yes, the stuff usually used for babies. Apply this to every place you are chafed, I use it before I hit the shower, and oh my gosh, it feels so much better. It doesn't hurt! It will still hurt after your shower, but it will take the sting out while you are washing off. Afterwards, use Neosporin to help those areas heal.
If you have any questions, put them in the comments section below and I will get back to you with answers. With that, I'm going to hit the shower and I'll see you next time!
- Heike
Tuesday, August 01, 2017
• Silver Spring, MD 20910
Time passes by faster as we get older. I know we heard it from our parents but it is happening to me. I am sure you can relate.
My example of not noticing how fast time passes quickly, is well, a bit funny.
My bra was loose and not fitting correctly. I clearly remember that I bought it "recently". My daughter pointed out that it was 3 years ago that we went bra shopping.
WHAT?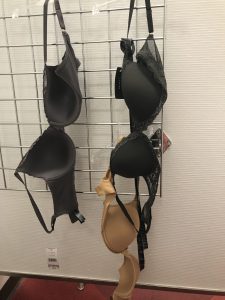 I could not believe it and finally when to the store to get a new bra. The sales person laughed and wondered what took me so long to get a new bra. "3 YEARS", she exclaimed!
I simply wasn't paying attention.
My focus has been to build a new business. I did not pay much attention to me or my appearance. I mostly run around in my comfy, stretchy workout outfits. Nothing wrong there but...
Time passed and I did not pay attention to anything else outside of my work. Most importantly I did not focus on me!
We tend to forget about ourselves and what OUR needs are whether it is over work, the family, or simply too much to do in our lives.
Do you agree?
It's time to make a change and focus on what YOU need and want to do.
Below tell me the ONE thing that you like to focus on today. Something that you have been perhaps been thinking about doing.
Love your day,
Heike
PS: I bought 4 NEW bras and I love them!
P.P.S: Have you joined my new Facebook group yet? Click the link to join other amazing women in "The Art Of Igniting Your Spark!"
Sunday, July 09, 2017
• Silver Spring, MD 20910
7 Ways To Make Your Spine Go Whoppi
How many hours do you sit at your desk?
Focused on what you are working on that you even forget to move.
Many of you have told me about the hours you spend at your desk without a break. The neck and shoulders are tight and can barely move.
I
s that you sitting at your desk all hunched over? Do you suffer from a tight neck, low back pain and maybe carpal tunnel syndrome?
It is so easy to set up your workstations, perhaps even consider a standing desk, but be warned it does require you to have good posture to start with, or you end up with the same kind of problems. My friends at ProAction Physical Therapy are to credit for the fantastic art work.
Checkout the picture below and follow the set up for your desk.
If you are not sure what you look like when you adjusted your desk, have a co-worker take a picture of you. It takes a few tweaks and you will feel better sitting for a extended periods of time.
Do you want to make your spine go whoopi?
Then check out my 7 ways to help you spine to just that below.
#1 BREATH deeply
#2 Turn your head side to side (like you are looking over your shoulder)
#3 Bring your chin to your chest to stretch your neck (hold for 30 seconds)
#4 Stand up and reach your arms to the sky
#5 Pull your knees to your chest (you can do this standing or seated)
#6 Walk around the office, the building, to your co-workers cubbi
#7 Stretch your hips by doing the figure 4 stretch seated
How many exercises do you do? As many as you like.
How often do you do them? As often as you can.
How long do you hold stretches? Just do them, don't get confused by too many details.
Don't wait and make your spine go whoppi now.
Want more tips on how to feel and function better? Contact me.
Love your day,
Heike
Sunday, April 02, 2017
• Silver Spring, MD 20910
A Trip of A Lifetime - Antarctica
Antarctica is one of the top 25 places to visit on the planet.
"An environmental preserve for scientific research, Antarctica is the coldest, windiest place on earth, with ice as deep as three miles and as old as 3 million years. To get there, you have to cross the Drake Passage, 600 notoriously difficult miles of ocean between the tip of South America and the icy continent. Functional but austere expedition vessels have been taking tourists there for decades; large, luxurious ships cruise there on occasion, but passengers are not allowed to land," Leasuretravel points out.
That sounds just right for running a marathon and planning a vacation. That's exactly what my husband Jan and I did March 3 - 17, 2017.
Three years ago, I came across pictures of my running friends showing them crossing the finish line in a marathon in Antarctica. "How cool is that," I thought. I asked for more details and found out that Marathon Tours & Travel is organizing these trips.
These Antarctica tours are very popular and booked three years in advance, despite the steep price. For three years, I saved money every month to make the trip possible for us.
Marathon Tours helped us to prepare for our adventure, sharing lists of clothes to bring for the different climates, and holding a webinar on what to expect during the travel on our ship and the marathon.
Once we booked our flights to Buenos Aires, we were beyond excited.
Itinerary for the Academic Ioffe (our ship for 10 days)
Saturday, March 4, 2017
We arrived in Buenos Aires from Washington, D.C., a 14 hour flight with a connection in Houston, and were transferred to the Plaza Hotel, our home for the next 3 days. A banquet dinner had a briefing with the runners from the Ioffe and the Vavilov. Due to the huge demand this year, two boats were off to race the marathon.
Marathon tours organized runs each day and a tour through BsAs. We spent our free time dancing Tango and having dinner with our friends in BA. Such a treat!
Interesting fact: Only 100 people can be on land in Antarctica during the trip at any given time. OneOcean, the crew that took care of us during the trip on each ship had all this planned to perfection.
Day 1 - Tuesday, March 7, 2017
Flight to Ushuaia, which is the most southern city of Argentina, a.k.a. "The end of the world", and boarded the Ioffe. We settled in our cabin and went to some safety briefings that included "pretending" we are sinking. This reminded me of the sinking of the Titanic, but with a positive outcome. The 2-day crossing of the Drake Passage was ahead of us.
Day 2 - Wednesday, March 8, 2017
The Beagle Channel and Drake Passage
The Drake Passage is the body of water between South America's Cape Horn and the South Shetland Islands of Antarctica. The Drake Passage, named after the explorer Sir Francis Drake, is known to be one of the most treacherous sea crossings. We were warned and prepared mentally for a potentially rough crossing, plus a patch on our necks to prevent sea sickness. We lucked out and the sea was calm and the sky sunny throughout our travels.
Day 3 - Thursday, March 9, 2017
Land Ho! We reached the South Shetland Islands and the weather god was on our side again. We went on two outings each day throughout the trip.The Zodiacs either took us on a land excursion and/or for a cruise among the bays and channels. Jan and I went sea kayaking today and, dressed in our new uniforms, we stayed warm. It was so incredible to see icebergs, seals, penguins and be one with nature while out in a small kayak.
Day 4 - Friday, March 10, 2017
We spent the day exploring the Shetland Islands in Zodiacs, and on our land outings we saw Chinstrap penguins at Aitcho Barrientos and Elephant seals on Robert Point. During our evening excursion we cruised around the Antarctic fjords and I experienced the most amazing whale encounter of the entire trip.
We were out with our Zodiac and our skipper Ian, drove us around the sea to find Humpback whales. The whales were out for their dinner and smoothly glided through the waters. There were no other sounds than the ones the whales made. Then we saw a whale swimming towards us seemingly within reach, he dove under our Zodiac just to emerge on the other side of it without making our Zodiac rock or disturb anything. It still gives me the chills just to think back to it. No, not because it might have been dangerous, but because being this close to something that large and gentle is something I will never forget.
Interesting fact: All your gear that touched land (shoes, pants etc) has to go through a thorough cleaning, called "Bio Securing". OneOcean is making sure that Antarctica stays pristine and is not contaminated. That also meant that our running shoes for the marathon were scrubbed until there was not a speck of dirt from other continents on them.
Day 5 - Saturday, March 11, 2017
RACE DAY!
The marathon was held on King George Island between the Russian and the
Chinese research stations. We had to run 6 (six) loops, and each loop was about four miles long. We ran from the Russian base, which was very muddy and sticky, to the Chinese base. The course there was rocky and the path filled with pebbles (super hard to run). At first it seemed really boring to run six loops but with only 80 runners, and some ran the half marathon, but it was quite entertaining.
Jan and I finished the marathon with a big smile, completing another one of our bucket list items.
Interesting fact: This marathon is one of the 7 continent races held and for several runners this was their seventh marathon in their last continent. The course
looked easy on paper, but this was one of the hardest marathons I have run to date. Elevation gain was 2200 ft with rough terrain.
Day 6 - Sunday March 12, 2017
Mikkelsen Harbour and we have arrived at Gentoo penguin central. Today was the post marathon celebration for all involved. We enjoyed a delicious BBQ and were joined by the runners from the Vavilov for a post marathon party on our boat.
IMPORTANT NOTE: The weather was FANTASTIC the entire trip, including the marathon. Light winds, sun most days, light snow every now and again, and around 30 degrees. The OneOcean staff said this was most unusual, normally there is at least some portion of bad weather.
Day 7 - Monday, March 13, 2017
Wilhelmina Bay at Neko Harbor and we took our first steps on the Antarctic Continent.
The weather was our guide as the captain is in charge of where we will go or not. Penguins wherever you look and icebergs, it is just breathtaking.
Day 8 - Tuesday, March 14, 2017
Paradise Bay: Today is the Polar plunge!
Setting foot back on the Antarctic continent again and hiking up a small island. The view is just amazing and we are having a blast sledding down the hill on our booties. Once back on the little landing it's time for the Polar plunge. Water temperature: 1 degree celsius. Everybody ready to take the plunge, is already wearing their swim gear under their clothes and outer layers. This is so much fun, everyone is excited. It's a quick in and out and back to the ship.
Later on, we are heading to Fournier Bay: At least 2 dozen bubble feeding Humpback whales are around the ship. They are just hanging out eating and swimming, it's an incredible excitement on the boat and the Uhs and Ahs are non-stop. After a few hours of this, the captain points out a storm coming in our direction and we had back to the Drake Passage.
Day 9 - 10 - Wednesday, March 15 - Thursday, March 16th
2 day journey back through the Drake Passage via Cape Horn back to Ushuaia and Buenos Aires.
Some thoughts in closing:
This was a trip of lifetime, words can't describe the experiences I had and the pictures do not do justice to the nature and wildlife I saw.
The marathon was the vehicle to be able to enjoy this unspoiled place of the earth. OneOcean and Marathon Tours and Travel, thank you for preserving the amazing part of the world.
Not sure where the winds of adventure will take us next.
-Heike
Thursday, March 02, 2017
• Silver Spring, MD 20910
I attended the IDEAPTI last weekend and here is what happened
Once a year the IDEA (International Health and Fitness Association) Personal Trainer conference is held in the Washington, DC area. I love this event and volunteer to be an assistant for the weekend every year. In exchange I attend training sessions that help me grow as a studio owner and Fitnesspreneur. This conference is always super exciting and attended by trainers from around the world. I learn not only from the sessions I attend, but from the other attendees as well.
The IDEA staff has become an extended family of mine. Everyone is friendly, supportive, encouraging, and that creates an exciting learning environment.
Each year I am able to reconnect with my old friends in the fitness industry and make new ones. That puts a smile on my face thinking about it.
What did I learn? That you never stop learning!
As a Solopreneur, I wear many hats to run my business, and in order to be more successful I need to improve how I do business. Education is the key to success.
My focus for this year's conference:
Training the female client. Understanding the role of nutrition, strength training, and hormones
Gut health. You eat what you can digest for health
Business. Run my business effectively and efficiently
Serving more clients. Helping my tribe to live better and feel better through online training
The presenters were excellent and experts in their field. There was a lot of note-taking and asking questions to get the most out of our time together.
It is exciting when you are among like-minded people. I know I am taking my business to the next level.
Thanks IDEA!
- Heike
Sunday, February 12, 2017
• Silver Spring, MD 20910
One of my friends said the other day, "I don't want people to know that I am in menopause. They treat you differently and secretly roll their eyes. You know the one, it just makes you feel bad about yourself."
Menopause And The Stigma
This surprised me. I look at menopause as a natural occurrence in life, just like starting your period when you begin puberty. But now that I think about it…menopause is a whole different beast.
Let me go back in time and tell you what happened. I was about 13 years old when my menses started. I was not interested in boys, but was out in the fields with the farmers near where I grew up. There was no sex education in school, and the Internet was not invented yet so you couldn't Google your questions. It was something nobody talked about.
When my period started I tried to conceal it. I thought it was disgusting and wondered what the heck had I done to cause this. So I tried to hide it using toilet paper as my savior. Of course, this did not last long. My mom was wondering why we were constantly out of toilet paper, and eventually found some blood in my underwear. I was mortified!
Why don't we talk about important things in our life?
She then gave me a book to read. This was supposed to teach me what was going on with me and my body. The book had these odd 3D pictures, I remember it vividly. We never talked about it and my mom bought all kinds of feminine hygiene products with no further instructions (because I could just follow the box, right?).
How can we learn from each other if we don't talk about it?
The years went by and I grew older and so did she. At some point she must have gone into menopause - I am sure of it - but we never talked about it.
I, on the other hand, will talk about anything (my menopause included). Most women go through the same side effects in menopause as I do. There is such a wealth of knowledge available, we just have to do some digging to make sense of it all.
To many, menopause is a sign of old age. The need to slow down, take naps (I love naps) and preserve energy. I think it's far from it. Menopause is a time to rethink your life and a time to embrace the new you. We are relieved from monthly menstruation, fear of unwanted pregnancies, and the high cost of purchasing feminine products. We don't have to try to hide our hot flashes, write off our brain fog, or pretend that we slept well when we didn't. Menopause is nothing but a passing phase in your life. Menopause is nothing to be ashamed of.
Let's overcome the misconceptions of menopause
It is time to break the mold that we have become accustomed to. It is time to rid ourselves from the misconceptions that we are no longer fit, confident and sexy.
In her book "Daughters of Distance," Vanessa Runs quotes Missy Berkel saying, "Getting older has changed my state of mind, because I have the confidence to finish things that I have never thought I could. I love being part of a community that values character and experience over appearance and we're taught lines, scars, and weathered skin are celebrated".
- Heike
Tuesday, January 03, 2017
• Silver Spring, MD 20910
Handling Criticism: Why do negative comments hurt so much?
I am sure you had negative comments hurt your feelings.
You try to do the right thing in life and follow a path we believe is right for you. The choices you make affect the quality of your life and happiness. Handling criticism of negative comments is hard because it hurts your feelings.
Someone close to me just hurt my feelings and I am trying not to let it bother me, but it does. Let me explain.
I have always been a positive person. I can't explain why, but I am. No matter how hard things get, I dig myself out and see the positive in every situation. My kids usually shake their heads when I once again burst out into my positive song and dance of life.
My mom, on the other hand, is just the opposite. She sees her glass of life as half empty. She is encouraging and supportive in her children's adventure, but once we make those choices she feels left behind and resentful. I take her negative approach to heart and it hurts.
Have you had a similar experience with someone close to you?
Those negative comments just dig into you, right? When you reach menopause you often doubt your feelings and feel inadequate. You question yourself about anything and wonder if you are doing anything right. Often times you can see the disapproval of others in their eyes.
When I decided to start a job in the United States thirty years ago she was full of support and encouragement. This made me super excited too! Until later, when I found out that she had hoped that I would come back to live in my homeland of Germany. Maybe get married, have children, and live there permanently. She would get to see us more often and exchange our life stories. Instead, I chose to remain in the U.S., and our relationship has suffered because of it.
Unfortunately, now our conversations are about the weather and other family members. When trying to discuss meaningful topics she acts defensive or changes the subject. She does not seem to see that her behavior is hurtful, even when I call her out on it.
I do seek her approval; she is my mom and has a wealth of life experience. I want her to be proud of me without all the snide remarks that hurt me. We thrive on the support of others and their caring nature towards us.
We can't change how other people act towards us but we sure can change the way we react towards the hurt they pass on.
It is important to surround yourself with positive and supportive people.
I believe in passing on positive vibes to the people around me.
I believe if we eliminate the hurt from our relationships we live a richer life.
Let go of the negativity of others and focus on your happiness. Why not check out my 7 Day Planner to Clear the Clutter?
- Heike