Tuesday, August 01, 2017
• Silver Spring, MD 20910
Time passes by faster as we get older. I know we heard it from our parents but it is happening to me. I am sure you can relate.
My example of not noticing how fast time passes quickly, is well, a bit funny.
My bra was loose and not fitting correctly. I clearly remember that I bought it "recently". My daughter pointed out that it was 3 years ago that we went bra shopping.
WHAT?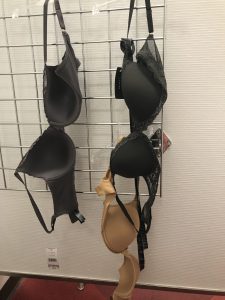 I could not believe it and finally when to the store to get a new bra. The sales person laughed and wondered what took me so long to get a new bra. "3 YEARS", she exclaimed!
I simply wasn't paying attention.
My focus has been to build a new business. I did not pay much attention to me or my appearance. I mostly run around in my comfy, stretchy workout outfits. Nothing wrong there but...
Time passed and I did not pay attention to anything else outside of my work. Most importantly I did not focus on me!
We tend to forget about ourselves and what OUR needs are whether it is over work, the family, or simply too much to do in our lives.
Do you agree?
It's time to make a change and focus on what YOU need and want to do.
Below tell me the ONE thing that you like to focus on today. Something that you have been perhaps been thinking about doing.
Love your day,
Heike
PS: I bought 4 NEW bras and I love them!
P.P.S: Have you joined my new Facebook group yet? Click the link to join other amazing women in "The Art Of Igniting Your Spark!"
Sunday, July 09, 2017
• Silver Spring, MD 20910
7 Ways To Make Your Spine Go Whoppi
How many hours do you sit at your desk?
Focused on what you are working on that you even forget to move.
Many of you have told me about the hours you spend at your desk without a break. The neck and shoulders are tight and can barely move.
I
s that you sitting at your desk all hunched over? Do you suffer from a tight neck, low back pain and maybe carpal tunnel syndrome?
It is so easy to set up your workstations, perhaps even consider a standing desk, but be warned it does require you to have good posture to start with, or you end up with the same kind of problems. My friends at ProAction Physical Therapy are to credit for the fantastic art work.
Checkout the picture below and follow the set up for your desk.
If you are not sure what you look like when you adjusted your desk, have a co-worker take a picture of you. It takes a few tweaks and you will feel better sitting for a extended periods of time.
Do you want to make your spine go whoopi?
Then check out my 7 ways to help you spine to just that below.
#1 BREATH deeply
#2 Turn your head side to side (like you are looking over your shoulder)
#3 Bring your chin to your chest to stretch your neck (hold for 30 seconds)
#4 Stand up and reach your arms to the sky
#5 Pull your knees to your chest (you can do this standing or seated)
#6 Walk around the office, the building, to your co-workers cubbi
#7 Stretch your hips by doing the figure 4 stretch seated
How many exercises do you do? As many as you like.
How often do you do them? As often as you can.
How long do you hold stretches? Just do them, don't get confused by too many details.
Don't wait and make your spine go whoppi now.
Want more tips on how to feel and function better? Contact me.
Love your day,
Heike
Sunday, April 02, 2017
• Silver Spring, MD 20910
A Trip of A Lifetime - Antarctica
Antarctica is one of the top 25 places to visit on the planet.
"An environmental preserve for scientific research, Antarctica is the coldest, windiest place on earth, with ice as deep as three miles and as old as 3 million years. To get there, you have to cross the Drake Passage, 600 notoriously difficult miles of ocean between the tip of South America and the icy continent. Functional but austere expedition vessels have been taking tourists there for decades; large, luxurious ships cruise there on occasion, but passengers are not allowed to land," Leasuretravel points out.
That sounds just right for running a marathon and planning a vacation. That's exactly what my husband Jan and I did March 3 - 17, 2017.
Three years ago, I came across pictures of my running friends showing them crossing the finish line in a marathon in Antarctica. "How cool is that," I thought. I asked for more details and found out that Marathon Tours & Travel is organizing these trips.
These Antarctica tours are very popular and booked three years in advance, despite the steep price. For three years, I saved money every month to make the trip possible for us.
Marathon Tours helped us to prepare for our adventure, sharing lists of clothes to bring for the different climates, and holding a webinar on what to expect during the travel on our ship and the marathon.
Once we booked our flights to Buenos Aires, we were beyond excited.
Itinerary for the Academic Ioffe (our ship for 10 days)
Saturday, March 4, 2017
We arrived in Buenos Aires from Washington, D.C., a 14 hour flight with a connection in Houston, and were transferred to the Plaza Hotel, our home for the next 3 days. A banquet dinner had a briefing with the runners from the Ioffe and the Vavilov. Due to the huge demand this year, two boats were off to race the marathon.
Marathon tours organized runs each day and a tour through BsAs. We spent our free time dancing Tango and having dinner with our friends in BA. Such a treat!
Interesting fact: Only 100 people can be on land in Antarctica during the trip at any given time. OneOcean, the crew that took care of us during the trip on each ship had all this planned to perfection.
Day 1 - Tuesday, March 7, 2017
Flight to Ushuaia, which is the most southern city of Argentina, a.k.a. "The end of the world", and boarded the Ioffe. We settled in our cabin and went to some safety briefings that included "pretending" we are sinking. This reminded me of the sinking of the Titanic, but with a positive outcome. The 2-day crossing of the Drake Passage was ahead of us.
Day 2 - Wednesday, March 8, 2017
The Beagle Channel and Drake Passage
The Drake Passage is the body of water between South America's Cape Horn and the South Shetland Islands of Antarctica. The Drake Passage, named after the explorer Sir Francis Drake, is known to be one of the most treacherous sea crossings. We were warned and prepared mentally for a potentially rough crossing, plus a patch on our necks to prevent sea sickness. We lucked out and the sea was calm and the sky sunny throughout our travels.
Day 3 - Thursday, March 9, 2017
Land Ho! We reached the South Shetland Islands and the weather god was on our side again. We went on two outings each day throughout the trip.The Zodiacs either took us on a land excursion and/or for a cruise among the bays and channels. Jan and I went sea kayaking today and, dressed in our new uniforms, we stayed warm. It was so incredible to see icebergs, seals, penguins and be one with nature while out in a small kayak.
Day 4 - Friday, March 10, 2017
We spent the day exploring the Shetland Islands in Zodiacs, and on our land outings we saw Chinstrap penguins at Aitcho Barrientos and Elephant seals on Robert Point. During our evening excursion we cruised around the Antarctic fjords and I experienced the most amazing whale encounter of the entire trip.
We were out with our Zodiac and our skipper Ian, drove us around the sea to find Humpback whales. The whales were out for their dinner and smoothly glided through the waters. There were no other sounds than the ones the whales made. Then we saw a whale swimming towards us seemingly within reach, he dove under our Zodiac just to emerge on the other side of it without making our Zodiac rock or disturb anything. It still gives me the chills just to think back to it. No, not because it might have been dangerous, but because being this close to something that large and gentle is something I will never forget.
Interesting fact: All your gear that touched land (shoes, pants etc) has to go through a thorough cleaning, called "Bio Securing". OneOcean is making sure that Antarctica stays pristine and is not contaminated. That also meant that our running shoes for the marathon were scrubbed until there was not a speck of dirt from other continents on them.
Day 5 - Saturday, March 11, 2017
RACE DAY!
The marathon was held on King George Island between the Russian and the
Chinese research stations. We had to run 6 (six) loops, and each loop was about four miles long. We ran from the Russian base, which was very muddy and sticky, to the Chinese base. The course there was rocky and the path filled with pebbles (super hard to run). At first it seemed really boring to run six loops but with only 80 runners, and some ran the half marathon, but it was quite entertaining.
Jan and I finished the marathon with a big smile, completing another one of our bucket list items.
Interesting fact: This marathon is one of the 7 continent races held and for several runners this was their seventh marathon in their last continent. The course
looked easy on paper, but this was one of the hardest marathons I have run to date. Elevation gain was 2200 ft with rough terrain.
Day 6 - Sunday March 12, 2017
Mikkelsen Harbour and we have arrived at Gentoo penguin central. Today was the post marathon celebration for all involved. We enjoyed a delicious BBQ and were joined by the runners from the Vavilov for a post marathon party on our boat.
IMPORTANT NOTE: The weather was FANTASTIC the entire trip, including the marathon. Light winds, sun most days, light snow every now and again, and around 30 degrees. The OneOcean staff said this was most unusual, normally there is at least some portion of bad weather.
Day 7 - Monday, March 13, 2017
Wilhelmina Bay at Neko Harbor and we took our first steps on the Antarctic Continent.
The weather was our guide as the captain is in charge of where we will go or not. Penguins wherever you look and icebergs, it is just breathtaking.
Day 8 - Tuesday, March 14, 2017
Paradise Bay: Today is the Polar plunge!
Setting foot back on the Antarctic continent again and hiking up a small island. The view is just amazing and we are having a blast sledding down the hill on our booties. Once back on the little landing it's time for the Polar plunge. Water temperature: 1 degree celsius. Everybody ready to take the plunge, is already wearing their swim gear under their clothes and outer layers. This is so much fun, everyone is excited. It's a quick in and out and back to the ship.
Later on, we are heading to Fournier Bay: At least 2 dozen bubble feeding Humpback whales are around the ship. They are just hanging out eating and swimming, it's an incredible excitement on the boat and the Uhs and Ahs are non-stop. After a few hours of this, the captain points out a storm coming in our direction and we had back to the Drake Passage.
Day 9 - 10 - Wednesday, March 15 - Thursday, March 16th
2 day journey back through the Drake Passage via Cape Horn back to Ushuaia and Buenos Aires.
Some thoughts in closing:
This was a trip of lifetime, words can't describe the experiences I had and the pictures do not do justice to the nature and wildlife I saw.
The marathon was the vehicle to be able to enjoy this unspoiled place of the earth. OneOcean and Marathon Tours and Travel, thank you for preserving the amazing part of the world.
Not sure where the winds of adventure will take us next.
-Heike
Thursday, March 02, 2017
• Silver Spring, MD 20910
I attended the IDEAPTI last weekend and here is what happened
Once a year the IDEA (International Health and Fitness Association) Personal Trainer conference is held in the Washington, DC area. I love this event and volunteer to be an assistant for the weekend every year. In exchange I attend training sessions that help me grow as a studio owner and Fitnesspreneur. This conference is always super exciting and attended by trainers from around the world. I learn not only from the sessions I attend, but from the other attendees as well.
The IDEA staff has become an extended family of mine. Everyone is friendly, supportive, encouraging, and that creates an exciting learning environment.
Each year I am able to reconnect with my old friends in the fitness industry and make new ones. That puts a smile on my face thinking about it.
What did I learn? That you never stop learning!
As a Solopreneur, I wear many hats to run my business, and in order to be more successful I need to improve how I do business. Education is the key to success.
My focus for this year's conference:
Training the female client. Understanding the role of nutrition, strength training, and hormones
Gut health. You eat what you can digest for health
Business. Run my business effectively and efficiently
Serving more clients. Helping my tribe to live better and feel better through online training
The presenters were excellent and experts in their field. There was a lot of note-taking and asking questions to get the most out of our time together.
It is exciting when you are among like-minded people. I know I am taking my business to the next level.
Thanks IDEA!
- Heike
Sunday, February 12, 2017
• Silver Spring, MD 20910
One of my friends said the other day, "I don't want people to know that I am in menopause. They treat you differently and secretly roll their eyes. You know the one, it just makes you feel bad about yourself."
Menopause And The Stigma
This surprised me. I look at menopause as a natural occurrence in life, just like starting your period when you begin puberty. But now that I think about it…menopause is a whole different beast.
Let me go back in time and tell you what happened. I was about 13 years old when my menses started. I was not interested in boys, but was out in the fields with the farmers near where I grew up. There was no sex education in school, and the Internet was not invented yet so you couldn't Google your questions. It was something nobody talked about.
When my period started I tried to conceal it. I thought it was disgusting and wondered what the heck had I done to cause this. So I tried to hide it using toilet paper as my savior. Of course, this did not last long. My mom was wondering why we were constantly out of toilet paper, and eventually found some blood in my underwear. I was mortified!
Why don't we talk about important things in our life?
She then gave me a book to read. This was supposed to teach me what was going on with me and my body. The book had these odd 3D pictures, I remember it vividly. We never talked about it and my mom bought all kinds of feminine hygiene products with no further instructions (because I could just follow the box, right?).
How can we learn from each other if we don't talk about it?
The years went by and I grew older and so did she. At some point she must have gone into menopause - I am sure of it - but we never talked about it.
I, on the other hand, will talk about anything (my menopause included). Most women go through the same side effects in menopause as I do. There is such a wealth of knowledge available, we just have to do some digging to make sense of it all.
To many, menopause is a sign of old age. The need to slow down, take naps (I love naps) and preserve energy. I think it's far from it. Menopause is a time to rethink your life and a time to embrace the new you. We are relieved from monthly menstruation, fear of unwanted pregnancies, and the high cost of purchasing feminine products. We don't have to try to hide our hot flashes, write off our brain fog, or pretend that we slept well when we didn't. Menopause is nothing but a passing phase in your life. Menopause is nothing to be ashamed of.
Let's overcome the misconceptions of menopause
It is time to break the mold that we have become accustomed to. It is time to rid ourselves from the misconceptions that we are no longer fit, confident and sexy.
In her book "Daughters of Distance," Vanessa Runs quotes Missy Berkel saying, "Getting older has changed my state of mind, because I have the confidence to finish things that I have never thought I could. I love being part of a community that values character and experience over appearance and we're taught lines, scars, and weathered skin are celebrated".
- Heike
Tuesday, January 03, 2017
• Silver Spring, MD 20910
Handling Criticism: Why do negative comments hurt so much?
I am sure you had negative comments hurt your feelings.
You try to do the right thing in life and follow a path we believe is right for you. The choices you make affect the quality of your life and happiness. Handling criticism of negative comments is hard because it hurts your feelings.
Someone close to me just hurt my feelings and I am trying not to let it bother me, but it does. Let me explain.
I have always been a positive person. I can't explain why, but I am. No matter how hard things get, I dig myself out and see the positive in every situation. My kids usually shake their heads when I once again burst out into my positive song and dance of life.
My mom, on the other hand, is just the opposite. She sees her glass of life as half empty. She is encouraging and supportive in her children's adventure, but once we make those choices she feels left behind and resentful. I take her negative approach to heart and it hurts.
Have you had a similar experience with someone close to you?
Those negative comments just dig into you, right? When you reach menopause you often doubt your feelings and feel inadequate. You question yourself about anything and wonder if you are doing anything right. Often times you can see the disapproval of others in their eyes.
When I decided to start a job in the United States thirty years ago she was full of support and encouragement. This made me super excited too! Until later, when I found out that she had hoped that I would come back to live in my homeland of Germany. Maybe get married, have children, and live there permanently. She would get to see us more often and exchange our life stories. Instead, I chose to remain in the U.S., and our relationship has suffered because of it.
Unfortunately, now our conversations are about the weather and other family members. When trying to discuss meaningful topics she acts defensive or changes the subject. She does not seem to see that her behavior is hurtful, even when I call her out on it.
I do seek her approval; she is my mom and has a wealth of life experience. I want her to be proud of me without all the snide remarks that hurt me. We thrive on the support of others and their caring nature towards us.
We can't change how other people act towards us but we sure can change the way we react towards the hurt they pass on.
It is important to surround yourself with positive and supportive people.
I believe in passing on positive vibes to the people around me.
I believe if we eliminate the hurt from our relationships we live a richer life.
Let go of the negativity of others and focus on your happiness. Why not check out my 7 Day Planner to Clear the Clutter?
- Heike
Monday, December 26, 2016
• Silver Spring, MD 20910
Out with the Old, in with the New. Start today to make a change.
The year is coming to an end and you may plan on making some changes for the new year. You may be uncertain if you should try something new. It sounds exciting, but scary and you are not sure how you will like it. Why is out with the old and in with the new so hard?
Why is "the old" so appealing?
You are familiar with the routines you've already created. You are comfortable in your life, relationships, food choices, and exercise routines. Habits and rituals you created over the years that seem to work with your lifestyle. It's easy to stay in the "old" because nothing disrupts your comfort zone. The predictability is like a security blanket. This safety can hinder your spontaneity and zest of life.
When is it time to come out from under your security blanket and change?
I say RIGHT NOW. Don't wait until Monday or January 1st to make a change. Starting something unfamiliar will challenge you in new ways. You have to adapt and make different plans if you want to be successful. I say: "OUT WITH THE OLD. IN WITH THE NEW"!
Embrace "the new"!
I find it exciting and strange all at the same time.
Adopt a new way, step-by-step, and integrate it into your life. Start by changing small things, like what you eat for breakfast, or they way you drive to work.
Small changes will get your mind used to the idea. At some point you will feel less worried and enjoy the experience!
Out with the old. In with the new. Start today to make a change!
Heike
Wednesday, December 21, 2016
• Silver Spring, MD 20910
Another Year. Another Diet. Another Disappointment.
My top 3 solutions to taking control during the holidays.
The holidays are just around the corner and we celebrate them by enjoying delicious treats. We don't want to miss out on all of the festivities. Temptation can wreck havoc on your diet and fitness plan.
Temptation is everywhere!
First are the office parties, and then the treats everyone brings to share. They sit in the kitchen, tempting you every time you need to refill your water or get a cup of coffee. They seem to call your name, even when you are not in the room.
You cook an elaborate meal for your family, but you have to taste everything before you serve it of course. So you're already full when you sit down at the table, but you still have to eat with the rest of the family! Then you visit friends and don't want to disappoint them, so you at least try all of the delicacies they made.
Your waistline already is starting to grow and the pants are getting tighter. On top of that, you feel lethargic because of all the sugar, fat, and extra alcohol and to top it all off, you are not exercising as much as you normally do.
Oh no, it's happening.
Already you feel guilty and disappointed about your lack of self control. You think, "darn it, there go some of the milestones I reached!" You almost lost all the weight you had planned on losing at the beginning of the year. You had your nutrition and exercise program under control...until now. Thinking that okay, another year, another diet and hopefully you can get in shape fast.
But wait, you notice that everywhere you look "help" is on the way. You read about these "quick weight loss" programs: the bulletproof diet and the juice cleanses. All of these diets offering to shock your system into losing the weight you gained during the holidays. Your friend offers to sign you up for her diet group. Phew, saved, and you continue eating.
You know that this coming year it will work, right?! This year you keep to all those crazy rules. You just hope that the diet you picked will work for you and get that weight off quick.
You know what I say? Stop dieting!
Stop feeling like a failure because you can't stick with them. Don't try another fad diet and be disappointed yet again.
But wait, just take a minute and ask yourself:

What if there was a better way than dieting?
What if I didn't have to feel guilty during holidays?
What if you did not set yourself up for disappointment each and every year?
I am not saying throw caution to the wind and go for it. Instead, what I am suggesting are solutions to change unhealthy thinking habits and and to take control of your life and the holidays.
# 1 Gauge your desire
Don't just go for it. Wait a moment and think about what you are going to put into your body. Get a clear idea of how important the food is to your health. Ask yourself: Why am I eating this? Is it good for my body? Does it give me energy?
# 2 Assess your brain message
Is your brain telling you that you just can't live without eating this treat? Are those urges and impulses real dietary needs?
The brain plays tricks on us when it comes to smell and certain food colors (shades of red signal your brain to eat, it's why all those fast food places you love are painted red/orange/yellow!) Stop before you follow your brain. Slow down and assess what you're about to eat (and eat in moderation!). You know what you are doing if you really think about it.
# 3 Refocus your attention
Redirect your focus on healthy nutrition patterns. Focus on wholesome and productive activities, despite the false urges. Make the best choices you can given the situation you are in. Focus on how delicious a salad, dressing on the side, tastes and the satisfying crunch it has.
You may not make the perfect choices during the holidays, and that's okay. But you don't need to feel deprived or disappointed at the end of December.

No need to try another crash diet at the beginning of the year.
You will not feel disappointed about your lack of self control because you chose what is good for you.
You owned it and you earned it.
Heike
Wednesday, December 14, 2016
• Silver Spring, MD 20910
My client asked me the other day:
"I am running on the treadmill and I am sweating a little. You know that I am not a runner, but I am pushing pretty hard for my fitness level. I don't drink much water because I don't feel thirsty. But then about 20 minutes after my workout I start sweating like crazy! This can't be a hot flash right? What's going on?"
As we go through Menopause our hormone levels fluctuate. The body stops producing as much estrogen, testosterone, and progesterone; all of which can trigger night sweats. Without estrogen the autonomic nervous system (ANS) - which is responsible for pumping out hormones - is going haywire. This increases blood pressure, heart rate, sweat production, and body temperature. As a result, menopausal women experience hot flashes and night sweats.
But why do I sweat 20 minutes after my workout?
Here is the Science behind sweating AFTER exercise in Menopause.
This hormonal roller coaster makes it hard for active women to exercise in the heat. We are quicker to heat up due to the hormone changes and less able to cool down.
The biological safeguards that protect us from overheating are slow to kick in, and our core temperature is not as regulated like when we were younger.
A recent study compared sweat rate, sweat volume, sodium content, and thirst level among three groups of women. Their subjects ranged from premenopausal to postmenopausal women. What they found was that the core temperature of the postmenopausal women was higher. This resulted in less sweat production and a lack of thirst.
As for my client, she retains body heat and does not hydrate enough. Her body overheated and had no way of cooling down until her heart rate dropped.
How can you prepare yourself for your next workout?
- Precool before your workout: drink cold, low-sugar electrolyte drinks
- Add a pinch of salt to your water (water alone does not hydrate)
- Hydrate all day and always have your water bottle with you
- Eat watery fruits and vegetables (watermelon, peaches, strawberries, cauliflowers, peppers, spinach)
- Exercise outside: layer your clothing and stay in the shade
Do you want more information geared towards active women in and around Menopause?
Heike
Tuesday, December 13, 2016
• Silver Spring, MD 20910
Let's face it, everyone is worried about...
… gaining weight
… being stressed
… traveling to places where you can't workout and eat right
… no time for yourself
… no time to do anything you want to do until maybe 2017?! maybe...
You know what I say? Get rid of your stress! Yep, that easy. STOP stressing.
The holidays are for spending time with your loved ones, and doing fun stuff together.
What are they NOT about?
Running around buying stuff that no one wants. Making more food than an entire army can eat.
Cleaning the house so everyone visiting can make it dirty.
Here is my #1 Tip for your holidays. Are you ready?
STOP RUNNING AROUND TRYING TO PLEASE EVERYONE.
Slow down, take a breath, and stop what you are doing right now.
For years I thought that buying endless gifts for the holidays was the thing to do. Spending hours in the kitchen preparing meals (even while the guests were there) was my job as a mother, wife, and hostess. Wrapping presents to perfection was something that I just had to do.
It's all about those obligations that I was not comfortable with.
You know what I would rather do?
Cook with my children when I see them over the holidays. Go for a run with my husband and friends. Open the few gifts we really love giving to each other and drink a glass of wine while doing it. Sit around and play board games after dinner. Go out at night and look at the Christmas decorations in the neighborhood.
Spending quality time with the people you love is what this season is about.
Happy Holidays,
Heike