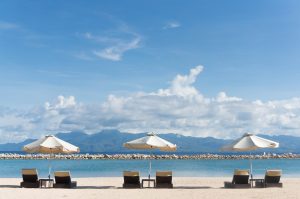 You're sitting in a crowded airport, watching everyone hustle by. Nobody looks like a celebrity; nobody has perfect hair, perfect smiles, perfect clothes, or a perfect body.
When I go to fitness conferences, there are hundreds of presenters, studio owners, and coaches. None of them look like the people you see on the cover of fitness magazines. They don't all have the perfect rock-hard body, with perfectly coiffed hair, and charisma that sweeps you off your feet.
Celebrities often portray a particular lifestyle that we are told we need to strive for. They are not flawless, but when you have a PR team only putting out the best stories, or best photos, it can often seem that way.
All we see is a lavish life, fancy clothes, chiseled bodies, fancy parties, and exotic vacations. Their smiles are big and make you think that you can have a life like that too.
Often we turn those stars into our role models and try to look like them, act like them, live like them. But we feel imperfect compared to them, and this imperfection can make us lose our self-esteem. Do you want to live in reality, or a reality show?
Who is your role model?
Role models are fine and can serve a terrific purpose in particular for younger people. But not when they get in the way of embracing our reality.
We can sometimes be made to feel that we are not good enough – not fit enough, not pretty enough, not smart enough.
We are told we need to be the "perfect mom." Cooking homemade meals, driving the kids to and from school, all while keeping a positive attitude, a fit figure, and a killer wardrobe.
But those ideals are not realistic for any woman (at least not without some serious help from nannies, personal trainers, and stylists).
Or maybe you have climbed the corporate ladder, orchestrated meetings, and solved difficult problems. Your bosses rave about you and give you more assignments, but you can't sleep because you can't de-stress. You never take a vacation and worry that your performance will falter if you take a break. Still, you dream about taking a luxurious vacation to some exotic island like you saw some celebrity do in a magazine.
But you need to stop emulating a celebrities life because it's not most people's reality. Most people do not have a personal chef, private trainer, and a team of nannies to help take care of their entire life so they can have the "perfect" appearance.
You will feel so much better when you start living your life by your own rules and on your own terms. You don't have to be jealous of a celebrities life because you will be living your best life.
Live your life on your own terms
So how can you start living your best life right now
1. Set specific goals for what you want to achieve and give it a specific timeframe
1 time per week give yourself some time off and love yourself for who you are.
2. What traits will help you achieve your goals?
Do you have to be more disciplined in your eating or save a little money each month to go on a bigger vacation? Think about your specific situation and write down some traits that you aspire to.
3. What winning habits do you need to develop?
Get up earlier in the morning to start with morning meditation, find a workout partner to help you stay on your workout schedule, or maybe organize your finances to start saving for a big trip.
Flaws are what make us human, but striving to be the best version of yourself (instead of a version the media tells you to be) is what will truly make you happy.
No longer do we have to compare ourselves to the "stars and celebrities."
Start by following the steps above to gain the confidence you need to be your own role model because that will be better than any celebrity.
What steps will you take today to live your best life?
Love your day,
Heike