Friday, June 01, 2018
• Silver Spring, MD 20910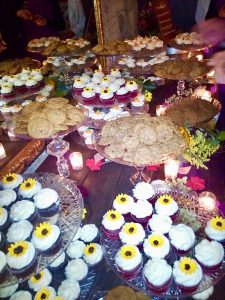 Raise your hand if you love cookies, chocolate, cakes, ice cream. I sure am raising my hand because I have a bit of a sweet tooth. Many of you have shared with me your concern about having too much sugar in your diet and what to do about it. So today is all about how to crush your sugar cravings.
The question I was asked recently (and many times before) is the following: I struggle with my weight as I'm getting older and I seem to put on weight quickly. I have big sugar cravings, and it seems impossible to eliminate sugar from my diet, so what do I do?
Why do we like sugar so much?
There are reasons why we have sugar cravings. The reason you want cookies, cakes, or sweets goes beyond what it tastes like. Even though you joke about your sugar addiction, that is precisely what it is. If you want to get past your sugar cravings, you need to treat it as an addiction. I hear it all the time: "I can't control my sugar cravings. There's just no way, but I don't even know why I'm really craving something sweet right now."
4 reasons that may cause your sugar cravings:
You're dehydrated. Hydration keeps your blood sugar levels stable (and keeps cravings at bay)

You don't eat enough or eat infrequently

You have developed a habit of eating sweets at a specific time

You have overeaten starch
Now, there are many dangers associated with a diet that is too high in sugar. Chronic high sugar intake can reduce the body's ability to handle carbohydrates because it reduces the body's sensitivity to insulin. What is insulin? Insulin is a hormone made by the pancreas that allows your body to use the sugar (also called glucose) in the food that you eat for energy (or to store that sugar for future use).
Chronic high sugar intake leads to fat gain, particularly around the middle, and this is partially due to chronic high insulin levels. Eventually, the consequences of a chronic high sugar diet can be diabetes, premature aging, cancer, Alzheimer's, kidney disease, joint pain, and arthritis. These are all reasons why focusing on eliminating excess sugar in your diet is so important.
YES, I am talking excess sugar NOT all sugar in your life. Otherwise, we are looking at "dieting," and that's not what I recommend.
But why is it so hard to eliminate sugar?
Some of the reasons, but also because sugar is everywhere. Here are some of the sugars that you find in almost every processed food now: high fructose corn syrup, sucrose, fructose, glucose, maltose, dextrose, maltodextrin, hydrolyzed starch, honey, cane sugar, agave nectar, sugar beets, maple sugar, and molasses. Some are very natural and good, like honey, molasses, or agave, but you can still consume too much sugar even if it's only coming from natural sources.
Let's look at some of the sugar content of foods we eat every day:
1 bagel has 4-5 teaspoons of sugar

½ cup of dried fruits has 4 teaspoons of sugar

½ cup of fruit juice has 3-4 teaspoons of sugar

1 can of soda has 9 teaspoons of sugar
The average American diet has about 45 teaspoons (or about 180 grams) of sugar per day. The recommended USDA allowance is 10 teaspoons, which is 40 grams per day. That is four times as much sugar as we should have!
WHAT? SCREAM… is that your reaction?
It's shocking and scary!
Hang in there because coming up next I share solutions and tricks on how you can crush your sugar crush. Promise.
Love your day,
Heike
DID YOU GET YOUR FREEBIE?
Click here to get it. Then tell me where to send it.