Friday, April 06, 2018
• Silver Spring, MD 20910
I don't know about you, but my doctor always pushes me to take a multivitamin. When I tell her that I don't take one, she questions why I don't and, again, encourages me to take one. My answer is: "I get my vitamins and minerals from the foods that I eat."
Here is an interesting fact: Nutrient deficiencies are common, usually from a poor diet or from reduced calorie intake. 68% of North Americans are deficient in calcium, 75% in magnesium, and 80% in vitamin B6.
You can't supplement poor nutrition choices with pills from a bottle!
Eating foods that support your immune system, give you energy, reduce inflammation, and help with muscle repair are critical to overall health. Research suggests that vitamins and minerals from whole foods promote greater health benefits than supplements.
Is food better for health than supplements? You need to know!
I love eating whole foods because I feel good when I eat them. They keep sickness at bay, keep me feeling strong and fueled for my workouts, and help me wake up every morning feeling ready for the day.
Here are some of my favorite foods that I incorporate into my life and so can you: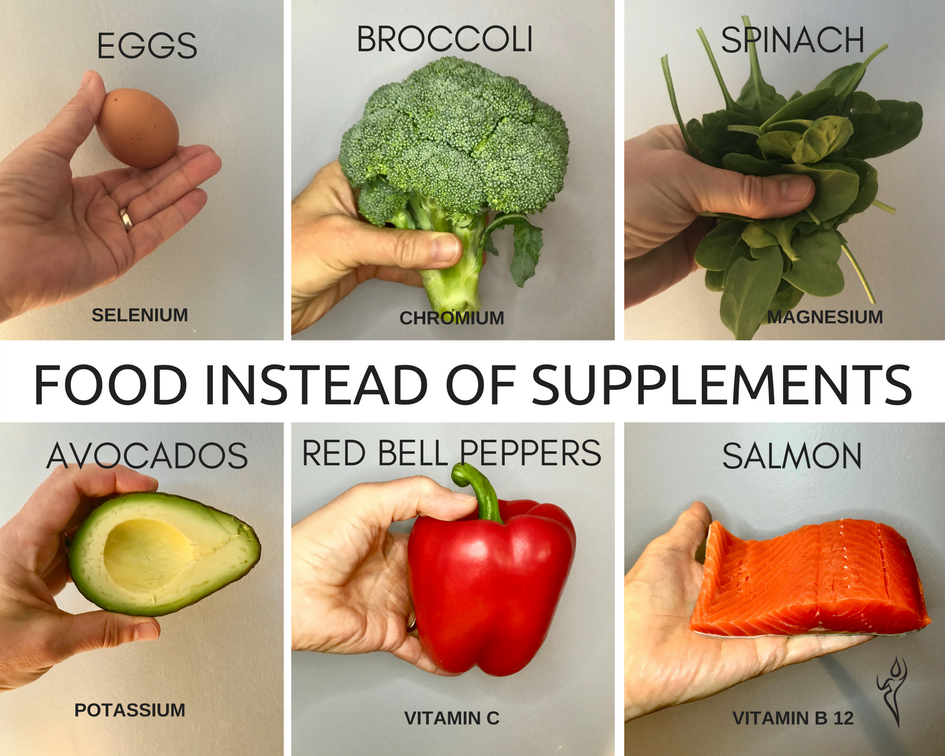 Eggs have high amounts of Selenium. Selenium works as a powerful antioxidant and consuming foods high in selenium can support detoxification and take stress off your liver and thyroid. Being deficient in Selenium can cause hair loss and brittle nails.
Broccoli is high in Chromium. Chromium is a mineral and enhances the action of insulin. Insulin allows the body to use the sugar you eat to be used for energy, which is what keeps you going throughout the day.
Spinach is an excellent source of Magnesium. It's important to note that Magnesium is key to Calcium absorption. If you are low in Magnesium, you are probably Calcium deficient.
Avocado is a Potassium powerhouse. Unlike most fruits avocados are high in good monounsaturated fats. Studies have shown that eating avocados can reduce inflammation and improve cholesterol levels.
Red Bell Peppers have a higher Vitamin C content than oranges! Your body does not make Vitamin C, so it's essential to include it in your daily diet.
Salmon is one food that I love, and that has tons of Vitamin B12. Vitamin B12 is a water-soluble vitamin that's essential for red blood cell production, and healthy brain and nerve function. A mild vitamin B12 deficiency can result in impaired mental function and low energy.
These foods are just some of the foods you should think about including in your diet so you can lead a healthy, energetic, and full life. I choose to eat a healthy and well-balanced diet any time of the day over store-bought supplements.
How about you?
Love your day,
Heike
DID YOU GET YOUR FREEBIE?
Select your FREE training. Then tell me where to send it.