Wednesday, August 30, 2017
Modern fitness is quickly taking a revolutionary turn. People are shifting to fitness packages that are not only creative but also less conformist. One would rather opt for fitness classes that are exciting and have fun than just a attend a typical fitness session. Hence fitness class with glow sticks is all about getting something extra.
What is fitness class with glow sticks?
Well, fitness class with glow sticks or chemical lighting is a modern fitness class conducted in well-lit rooms that embrace some level of darkness, more like the famous disco lights. Moreover, you have the chance to engage some of your best dancing styles to some of your favourite tunes with your glow stick. It is the ultimate kind of joyful craze.

Stay healthier at an affordable cost
Consequently, you can lose about over 400 calories in just a single hour as you stay fit and energised. It is a better alternative, rather than going out on a drinking spree at the disco, join the band wagon of fitness class with glow sticks. The best part is for you stay a healthier life at an affordable cost.

The Benefits
Despite the fact that fitness class with glow sticks tend to be exciting, whether you are a seasoned dancer or a beginner into the fitness program, they are incredibly easy to learn. The classes are popular in accommodating people with different talents and capabilities.
Therefore, you need to pay attention to these and other benefits before you check into your next class. Paying attention will help you understand what you stand to gain in the long run.

Breaking the monotony
The traditional training of stretching and other exercises to stay fit while under instructions from your instructor is less of a style of this fitness class. It uniquely adapts the use of holding glow sticks, or some form of bracelets or necklaces to wrap around your wrist or neck as you dance.
Also, some provide neon UV lights and glow body paints to wear; they glow intensely in the back light. Nevertheless, you could have glow sticks fitted on stationary riding bikes. Besides, this enhances the mood to dancing in the dark room as you become less conscious and be lost into the full-speed cycling and real-time shoulder presses.

Unique Ambiance
The glance at so many of your teammates in a single room all riding their stationary bikes with glow sticks shining all around the fitness room can be charming. As a result, the colourful lights complimented by some banging music leaves you to forget the usual dull environment of a conventional aerobics class that could regularly happen in a fully-lit room.
Incredibly, by the time you are done, you feel more of a dancer but at the same time going through a satisfactory work out from an entirely exceptional place.

Positive body effects
The use of glow sticks makes you feel physical exercising in the dark is safe and livelier, especially for those who fear the dark.
It is argued, as you dance to the music with the colourful lighting, it stirs the release of the 'good feeling' hormones like the endorphins; the receptors in our brains that are responsible for reducing pain while enhancing a positive mood.
Other benefits of the fitness class with glow sticks.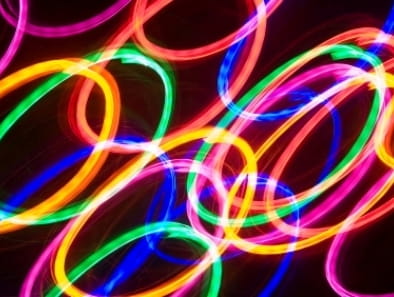 Apart from body effects, these modern classes offer extra service like a Jacuzzi and much more. You could end up becoming a great dancer by getting taught some the best moves in the process too. If you happen to be an ardent raver who is in dire need of staying fit, the fitness class with glow sticks enables you to kill two birds with one stone; Staying physically fit while having fun.