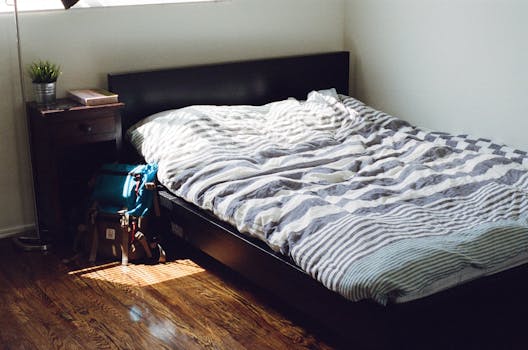 To stay healthy, you eat nutritious food, follow healthy habits daily and exercise. However, to start the day fresh so that you can stay healthy, you need to have eight hours of good and comfortable night sleep. To get proper sleep at night, some take hot water bath, while some follow a massage therapy which gives relaxation to their neck, shoulder and spine that has been working strenuously the entire day. However, one thing that we tend to forget which also plays a major role to get proper sleep is a good quality mattress.
Mattresses are expensive but they are one-time investment. Old and lumpy mattress often bends from the center. This makes your body uneven when you lie down. To relax your back, your spine should be straight. If your spine bent the entire night, the next morning you have pain in your neck. You will not feel fresh and your day starts with headache.
When you sleep in an uneven mattress for long you get health problems like back pain, headache, stiff joint etc. Lack of support in mattress can give poor posture, muscle strain, misaligned spine. A good quality mattress is something that provides proper anatomical support. Proper anatomical support means, the mattress gives your body same support which you get while standing. If you achieve proper support while sleeping, you get better results.
Earlier it was said that firm mattress was the best mattress as they keep your back straight. However, recently it is said that to keep your body relaxed your muscles shouldn't have to acclimatize to the mattress. Your sleeping position decides the category of mattress that's required.
Look at here for some of the best mattresses that are available for all kinds of body structure.
With time, people have switched to smart technology and with advance features you get different kinds of products that give you utmost comfort. Similarly, smart mattresses are a step ahead from standard mattresses. Let's know the difference between the two -
Standard mattress
Smart mattress
Standard mattress
Standard mattress was used during our childhood and still can be seen in many houses. This mattress is prepared from memory foam, spring, or hybrid. Its firm which isn't designed according to your sleep behavior. They are soft initially, which gives you immense relief when you lie and sink in bed. Later with time, the foam compresses and becomes hard and flat. This makes your night uncomfortable and sleepless.
Smart mattress
This mattress tracks your sleep. It monitors your sleep every night so that you don't have to sleep with a device or your smart phone beside you. This tracking device tells you number of hours you slept, rate of your heart beat and what improvements do you require to make while sleeping.
The temperature of your mattress changes according to the weather outside. In chilly winter, you can make your bed warm and cozy. The mattress can be connected to the other smart devices so that if you don't wish to get up from bed to dim lights that can be controlled by your mattress. It can also wake you up after a particular time if you set an alarm. Smart mattress gives you data every night regarding your sleep which can be monitored by installing just one app.
Smart mattress gives you a special way of treating your sleep in a unique manner. It will help you in getting better sleep every night by guiding you properly. This not only improves your health but your day also starts fresh. There are different kinds of mattresses that have smart technology which is different from others. It is up to you to select the mattress that fulfills your needs.