Thursday, February 02, 2017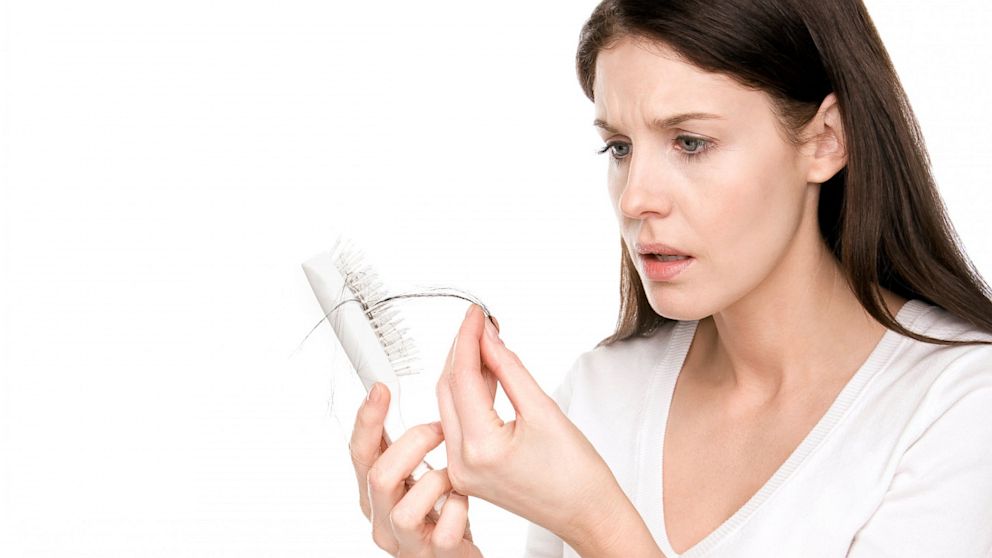 Lifestyle, depression, tension and excess alcohol consumption. These are some of the reasons for hair loss. In this article I am going tell you about some easy, natural ways to regrow your hair, I am sure you would rather avoid chemicals and drugs.
Common Cause

The most common reason for hair loss and many other medical problems is the food we eat and the life style we lead, if we can control our lifestyle and food habits we can solve most of the hair loss problem. If you are a daily alcohol user and like having hair, I suggest you to stop drinking because alcohol is one of the major causes of hair loss.
It is said that a normal man looses 100 hairs a day, if hair does not grow back proportionately to the lost hair then a person starts to go bald. Below are some natural foods which can prevent hair loss and help us to regrow our lost hair.

Spinach

Spinach is a great source of iron, vitamin A, C and vegetable protein. Iron deficiency is the main cause of hair fall and spinach is not only iron-rich, it also contains sebum which acts as a natural conditioner for hair. Spinach also provides us with omega-3 acid, magnesium, potassium and calcium. These vitamins and minerals help us to maintain a healthy scalp and lustrous hair.

Carrot

Sneak carrots in to your diet for those long and lustrous locks. Known to be good for the eyes, carrots contain vitamin A which improves hair growth. Sweet potatoes are also packed with beta-carotene that converts to vitamin A in our body. A deficiency of vitamin A may lead to a dry and itchy scalp.

Eggs and Diary

Milk, yogurt, cheese, eggs, etc. are loaded with essential nutrients such as protein, vitamin B12, iron, zinc and Omega 6 fatty acids. Dairy products are also a great source of biotin (vitamin B) that is known to fight hair loss.

Oats

Include a big bowl of oats in your morning meal and bid goodbye to those falling hairs. Oats are rich in fiber, iron, omega-6 fatty acids, zinc and polyunsaturated fatty acids (PUFAS), PUFAS stimulate hair growth they will make your hair thick and healthy.

Walnuts

Add walnuts to your diet and prevent hair loss, it is the only known nut to contain biotin, B vitamins, vitamin E, plenty of protein and magnesium. Walnuts contain all of the nutrients which are known to strengthen hair cuticles and nourish the scalp. It helps protect your cells from DNA damage which can be caused by sun exposure.


Lentils

Lentils are loaded with protein, iron, zinc, biotin and lentils are full of folic acid which is necessary for restoring the health of red blood cells. Red blood cells are important because they supply all of the body, skin and scalp with much-needed oxygen.

Strawberries

Strawberries contain high levels of silica, a trace mineral essential for hair strength and for hair growth. Other silica rich foods include rice, oats, onion, cabbage, cucumber and cauliflower.

Yogurt

Mentioned above under diary, yogurt is packed with vitamin B5 and vitamin D they are known to promote hair follicle health. You can also use yogurt to make a hair mask every once in a while.

Vitamin C Enriched Foods

Vitamin C supports the absorption of iron in our body, deficiency of iron may lead to hair loss. Vitamin C is also known for its antioxidant properties, it can reduce the damage caused by free radicals these make your hair brittle and weak but, more importantly free radicals can cause cancer. Add fruits like oranges, papaya, blueberries, lime and kiwi to your diet. Vitamin C also helps in the production collagen, an essential protein. Collagen strengthens the blood vessels that support hair shafts.
If you are already living a healthy lifestyle and eating a healthy diet you may want to consider a hair transplant like Calum Best. Calum Best underwent one of the most popular and reliable types of hair transplant, Follicular Unit Extraction.
Follicular Unit Extraction
During the FUE procedure follicles are harvested from the part of the head which has the thickest hair growth and relocated to the part where hair growth is the thinnest, usually the front or top. You maybe wondering if a hair transplant will hurt, most people who undergo a hair transplant say it is comparable to a trip to the dentist.