For most women, menstruation is a good excuse to avoid exercise. Studies show that most women avoid going to the gym during their menstruation while others avoid any kind of exercise during this period. However, scientists and doctors agreed that certain exercises can help you to alleviate the pain of menstruation as well as help you to avoid certain health problems during this period.
If you are concern about how your period will affect your fitness routine, you are not alone. The fact is that there is a lot of misinformation about exercising during your period. Most women got the information from their friends and never bothered to research how it actually works.
Some exercises have proven to be very beneficial for women during their period. Thus, you don't have to completely abandon the gym. Avoiding exercise isn't going to help you save energy or make you feel better. Instead of stopping all activity during your period, you should make changes to your exercise routine. Use this time to try some new workout routine.
Benefits of Exercising During Your Period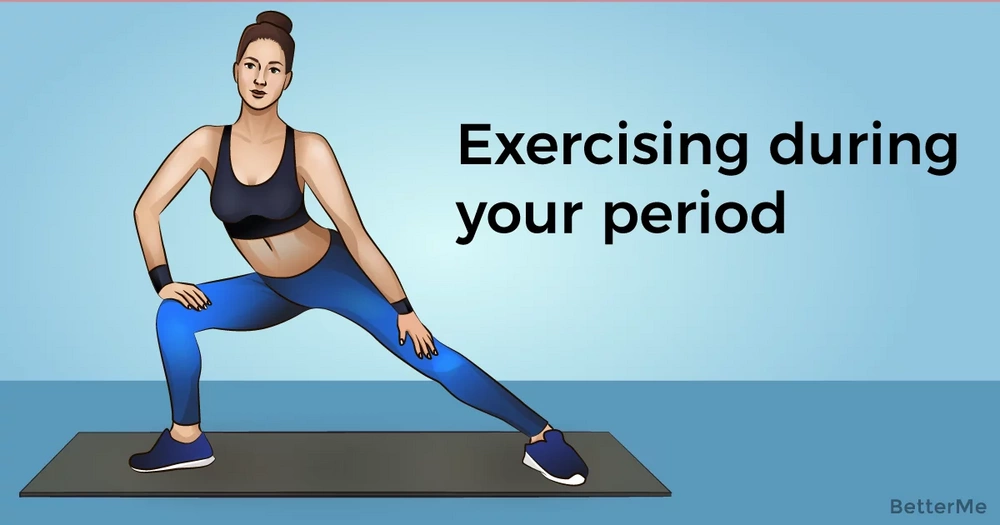 Some benefits that menstruating women get when they exercise include:
Decrease PMS Symptoms
Mood swing is very common in the days leading up to your period. Studies have shown that regular aerobic exercise can help you to reduce these symptoms.
Combat Painful Periods
If you are a victim of "dysmenorrhea" - otherwise known as a painful period (menstruation), you should exercise more during your period. Exercises such as aerobics can help you to decrease the pain.
Lift Your Mood
Exercising will increase circulation and activate adrenaline in your brain helping you to feel better. Similarly, it can also help you to alleviate headache, cramps, and even back pain associated with menstruation
Exercises You Should Do During Your Period
Aerobic Exercise
Light aerobic exercise is highly recommended. Keep it simple. You should avoid doing anything too strenuous. You can target 30 to 1 hour of aerobic exercise per day.
Walking
Using the stairs instead of the elevator is very recommended. You should walk more. For instance, you could go and take a walk in the park.
Strength training
Strength training is also recommended if you can do it. However, keep it low. Use only the smaller weights and avoid lifting any heavy-duty weight.
Yoga and Pilates
Generally, yoga and Pilates are very recommended. These exercises can help to relax your body and also reduce symptoms such as breast tenderness, cramping, soreness, and muscular fatigue.
Exercises to Avoid
Strenuous Exercise
In general, you should avoid any exercise that puts lots of stress on you. Exercises such as heavy weight-lifting and running for long hours must be avoided. Keep your exercise routine simple during your period and you will enjoy all the benefits.
Final Words
Exercising during your period is recommended as far as you learn to keep it simple. Avoid anything that will stress your body too much. Recently, a lot of women are using CBD for period pains and endometriosis. Using CBD oil can help you to feel more relax and also alleviate other symptoms of menstruation.