Sunday, September 01, 2019
• SAN DIEGO, CA 92103
Thursday, March 28, 2019
• SAN DIEGO, CA 92103
Friday, March 15, 2019
• SAN DIEGO, CA 92103
Get your ass in shape with this B-bell Hip Thrust Exercise...
Introducing The Barbell Hip Thrust:
The barbell hip thrust is one of the best exercises for the glutes. It was invented over 10 years ago by the Glute Guy, Bret Contreras PhD, and has since exploded in popularity all around the world.
Make sure you're performing this exercise properly by following the tips below:
1. Ideally, find a low bench or a platform (such as aerobic risers or a Hip Thruster) that you can lean up against. The ideal height is between 14-16 inches (35-40 cm) for most individuals. You want to be able to hinge from just beneath the scapulae.
2. Bring your feet in towards the body so that your shins are roughly vertical to the floor at the top of the movement. Over time as you practice this exercise, you'll easily find the right placement for your feet.
3. Push through the heels and extend the hips, keeping the ribs down, chin tucked, and eyes forward.
4. Posteriorly tilt the pelvis at the top of the movement with a big glute squeeze.
5. Lower the barbell back down to the ground in a controlled manner.
To protect your hips from pain and discomfort, use a Squat Sponge to wrap around the bar.
IMPORTANT NOTE:
The Barbell Hip Thrusts are the best for building size and strength because of the full hip extension motion which most glute exercises don't use! This is the primary function of the Gluteus Maximus, so when an exercise uses this movement this allows you to fully engage your glutes
Saturday, February 16, 2019
• SAN DIEGO, CA 92103
Friday, January 04, 2019
• SAN DIEGO, CA 92103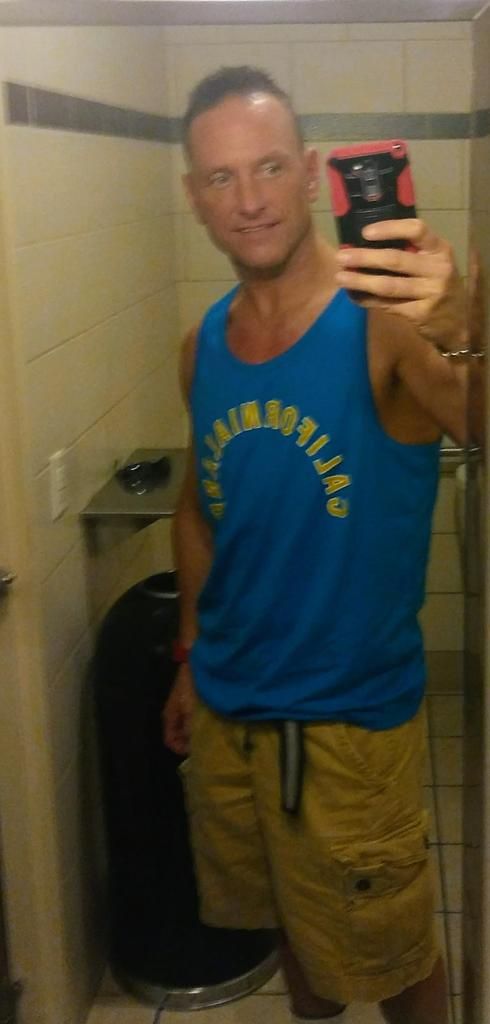 Sleeping naked can help calm anxiety
If you're sleeping with someone, that is. It has to do with the way touching your partner triggers the release of the hormone oxytocin, which produces feelings of calmness and security.
"Any kind of pleasant touch and/or massage boosts the oxytocin system," says Helen Fisher, PhD, a biological anthropologist and senior research fellow at the Kinsey Institute. "So cuddling with your partner as you sleep is likely to trigger this oxytocin response. And I think that elevated oxytocin reduces cortisol—the stress hormone."
It can affect male fertility

If you're trying for a baby, you might want to suggest that your partner skip the boxers or briefs in bed. Semen quality is reportedly better when men don't wear anything when they sleep. It has to do with the way snoozing naked helps lower core body temperature, as research has shown that heat has a negative effect on sperm. "Yes, this is a common factor in male fertility problems," says Dr. Winter. "Keeping the testicles cooler and away from our warmer core is helpful."

It makes you feel sexier
This isn't something scientists have studied as far as we know. But anecdotally speaking, many women say that sleeping in the nude makes them feel more sensual and in touch with their body. Cuddling with your partner skin-on-skin with nothing between you can reinforce your connection. Plus, it's just that much easier to have a sexual encounter if you don't have a layer of clothing to unbutton first.
Sleeping naked can help you fall asleep
The ideal temperature for sound snoozing ranges from 60 to 67 degrees Fahrenheit, according to the National Sleep Foundation; a cooler sleep environment makes nodding off and staying asleep easier. One way to help your body cool down? Strip down.
"Sleeping cooler does deepen sleep," says William Winter, MD, author of The Sleep Solution: Why Your Sleep Is Broken and How To Fix It. "Also, when we wear bulky clothing, we can have trouble cooling off easily if we get hot at night. Being naked facilitates easier temperature regulation...just pull up the blanket!"
Sunday, November 04, 2018
• SAN DIEGO, CA 92103
Friday, June 29, 2018
• SAN DIEGO, CA 92103
Friday, June 01, 2018
• SAN DIEGO, CA 92103
PROOF NOW EXISTS THAT EXERCISE DOES INDEED SLOW THE AGING PROCESS!
Researchers have recently shed light on how exercise benefits the body on a cellular level. What's more, they've determined a type of exercise that's best for boosting cell health.
Published in Cell Metabolism (2017; 25 [3], 581–92), the study included 36 men and 36 women categorized as "young" (aged 18–30) or "older" (aged 65–80). Each participant was assigned to one of three training programs for 12 weeks:
high-intensity interval training (HIIT) on an indoor bike;
strength training with weights;
or a combination of the two.
Study leaders took muscle biopsies from the volunteers—who also underwent lean-mass and insulin-sensitivity tests—and then compared the results with those from a sedentary control group.
Data showed that the exercise groups experienced improvements in cellular function and in the ability of mitochondria to generate energy; this adds further evidence that exercise does in fact slow the aging process at a cellular level. Muscle mass and insulin sensitivity improved with all three training protocols. However, outcomes did vary.
"HIIT revealed a more robust increase in gene transcripts than other exercise modalities, particularly in older adults,"
the authors explained. Specifically, HIIT increased mitochondrial capacity by 49% in the "young" group and 69% in the "older" group.
The authors added,
"HIIT reversed many age-related differences in the proteome, particularly of mitochondrialproteins in concert with increased mitochondrial protein synthesis."
For best benefit, according to the study, a combination of strength training and HIIT is recommended. While HIIT proved best at improving cellular health, it was less effective at increasing strength and muscle mass than the strength training protocol.
"We encourage everyone to exercise regularly, but the take-home message for aging adults is that supervised high-intensity training is probably best, because, both metabolically and at the molecular level, it confers the most benefits," concluded K. Sreekumaran Nair, MD, PhD, a Mayo Clinic endocrinologist and senior researcher on the study.
Wednesday, May 16, 2018
• SAN DIEGO, CA 92103
Want to be stronger and perform at your best?
All this while avoiding injury and increasing mobility?
Friday, May 11, 2018
• SAN DIEGO, CA 92103
Sure, you could eat whatever you wanted in high school and stay thin as a rail. But unfortunately you're not 17 anymore, and even if you work out 'round the clock, you can't transform your body if you constantly give in to cravings, high-fat foods, and sweet treats. The truth is, flat abs are made in the kitchen and no amount of cardio and crunches can sculpt a sleek physique if you maintain an unhealthy diet. "Consume excess calories and you have to counterbalance them," says Sara Haas, R.D.N., spokesperson for the Academy of Nutrition and Dietetics. "And it's hard to get enough exercise in to undo the calories you'll get in a double cheeseburger with French fries and a milk shake."
Why You Can't Out-Train a Bad Diet
You're not a professional athlete If you justify frequent fried chicken or pasta dinners with the Flywheel class or CrossFit WOD on your schedule the following morning, you might want to recalculate how many calories you're actually burning in comparison to the ones you're taking in. "The majority of people are not serious athletes, meaning they don't require the same type and amount of fuel as the pros," says Haas. "Eating a calorically dense, high-carbohydrate meal or snack makes sense for a competitive cyclist about to endure a 100-mile road race, but it doesn't make sense for someone who is about to take a two-mile jog around the block." Instead, opt for a healthier form of chicken such as grilled or poached and save the spaghetti for a post-race meal. Yes, it's OK to have a cheat here and there, but try not to make it a weekly or even bi-weekly thing.
And don't bother justifying it with an intense sweat session you may have had earlier—it's called a cheat meal for a reason. You won't be able to hit your peak if you're overdoing it with the wrong foods
To effectively change your physique and stay toned requires intense exercise. You won't have the physical endurance to push through tough workouts if your diet isn't up to snuff. Yes, that unfortunately means that while Reese's Pieces and soda may give you a sugar high that you mistake as energy, they won't fuel you to PR on the bench or around the track. Also, if you're consuming high-fat foods in the evening, they could be disrupting your sleep, according to Brazilian researchers—which will leave you too tired to go all out at the gym.
You'll need a combination of carbohydrates and protein to recover following a workout, as well as adequate carbs beforehand, too. "They're the preferred energy for the exercisers' muscles and mind," says Jennifer McDaniel, R.D.N., founder of McDaniel Nutrition Therapy in St. Louis and spokesperson for the Academy of Nutrition and Dietetics.
Watch out for taking in too much fat; that often translates to an abundance of calories as well, which quickly packs on as extra pounds. Another diet pitfall to avoid when training is extremely high amounts of carbs or fiber. "These could cause annoying digestive issues and prevent you from performing well," says McDaniel. In general, aim to get about 30 percent of your diet from protein, 40 percent from carbs and 30 percent from fat.
You won't have the energy to exercise if you're not eating enough
Keep in mind that a diet you might think is healthy—one that's super-low in carbs or calories—is just as harmful to your workout plan as one that's high in fat. A very restrictive eating plan, paired with hardcore exercise, could leave you leaning on muscle mass for energy, says McDaniel. Not getting enough fat (fat-soluble vitamins, like vitamins A and D, and essential fatty acids, like omega-3s, in particular), she adds, "leaves you unable to produce energy and grow muscle because it lowers your levels of hormones like insulin and testosterone—which are important for building lean-body mass."
Additionally, maintaining a very restrictive diet for a prolonged period can lead to a reduction in muscle tissue and can decrease the ability of your skeletal muscles (the ones needed for lifting, walking, and other forms of exercise) to perform well, found a study published in the journal Advances in Nutrition.
You won't want to exercise
Unhealthy food choices—whether you're eating too much fat, too many calories, or not enough of either—may make you feel slow and less driven to exercise. "Diet and exercise are a feedback loop," says McDaniel. "When you eat well, you are motivated to move, and when you move, you are more motivated to eat better." Consider, for instance, a low-carb, high-fat diet; it might not only weaken training adaptations and hinder performance, McDaniel adds, but can also lead to a 'hangry' mood. Translation: You'll be less likely to want to get to the gym.
You won't be able to tone your target areas
Having a hard time sculpting a better butt or washboard abs? When you consume excess calories and can't burn them all off solely from your workouts, they head right to these trouble zones. "It's dependent on your specific body type," says Haas, "but generally, women tend to gain weight in the hips and thighs, while men pack it on around their midsection." So even if you've gained muscle in these areas, it will be covered by a layer of fat. And abs exercises alone aren't enough to decrease your body-fat percentage or abdominal fat, according to a study published in the Journal of Strength and Conditioning Research.
Keeping your diet in check will help because to become truly toned, you'll need to build muscle and burn more calories than you're consuming at the same time. It's easier to do so if you don't treat yourself to nachos or ice cream in the first place.
You could get sick—or hurt
Low-carb and low-fat diets can be mentally draining and have a negative impact on heart health, says McDaniel. Plus, she says, "Following a chronic low-carb diet may lead to micronutrient deficiencies and increased inflammation throughout the body, which both make you more susceptible to injury." Studies have found that not taking in an adequate amount of healthy fats may raise your chances for overuse injuries (such as stress fractures and tendonitis) and it doesn't allow your body to protect itself in order to stay healthy. Furthermore, if you pair a low-fat diet with intense exercise, that can lower your immunity even further.
Regular sweat sessions are, of course, key for staying in shape and maintaining your overall health. However, says McDaniel, "Remember that exercise sustains weight loss—but a healthy diet is what drives it."
This article originally appeared on Life by DailyBurn.