Friday, July 03, 2015
• SAN DIEGO, CA 92103
Saturday, June 13, 2015
• SAN DIEGO, CA 92103

Wednesday, May 06, 2015
• SAN DIEGO, CA 92103
Drink water before each meal
Drink an 8 oz. glass of water about 20 minutes before each meal. It will cause you to feel fuller, faster. This will help your reduce calories painlessly! Drink 8 glasses of water per day.
Tuesday, March 31, 2015
• SAN DIEGO, CA 92103
High-intensity interval training (HIIT) has become hugely popular thanks to real results in shorter periods of time and extensive benefits. With busy schedules the norm, it's no wonder so many clients and potential clients are now seeking out these kinds of workouts.
HIIT, which involves repeated sessions of relatively brief, intermittent exercise, usually performed at very high intensity, can be easily modified for various client needs and fitness levels. When combined with an expert nutrition program, personalized HIIT programs can elicit serious results and health benefits, including:
Improve blood pressure and cardiovascular health
Improved insulin sensitivity
Improved body composition
Whether you're adding HIIT to your own personal fitness program or ramping up client results and health benefits with this style of training, it's important to understand the nutritional needs to support it from start to finish. While nutritional needs do vary by individual and training program, these nutrition plans and meal ideas for pre- and post-workout nutrition can help.
General Nutrition to Support a H.I.I.T. Program
To get the most out of any fitness program, clients should follow a healthy meal plan in general. Effective and well-rounded nutrition programs are based on a variety of healthful ingredients such as whole grains, fruits and vegetables, and lean proteins. The best nutrition plans provide adequate calories and macronutrients such as carbohydrates to fuel the body and provide energy stores for workouts. It's important that these are expertly created programs that prevent clients adopting a restrictive diet which may inhibit their success.
Adequate water intake is also a must to ensure complete hydration during workouts.
Pre-workout Nutrition for HIIT
Due to the intensity of these workouts, it's vital to follow a healthy nutrition plan with adequate nutrition in the days and hours leading up to a workout. Plan on a moderate- to high-carbohydrate meal that also includes protein approximately three to four hours before a HIIT workout, and then another high-carbohydrate snack within an hour after the workout. Good options for a pre-workout meal include:
Whole-wheat toast with peanut butter and banana
Non-fat Greek yogurt or cottage cheese with fruit
Dried fruit and almonds
Post-workout Nutrition for HIIT
The biggest nutritional concern post-workout is replacing energy stores (glycogen) and repairing muscles that have been broken down during the intense workout. Again, a combination of carbohydrates and protein has been shown to be most effective. Research shows that a 3:1 ratio of carbohydrates to protein within 30 minutes of completing a HIIT workout is best for replacing energy stores in preparation for the next high-intensity workout.
Suggestions for post-workout nutrition are similar to pre-workout meals and include:
Whole-grain cereal with fruit and soy milk
Whole-wheat crackers with fruit and cheese
Hummus and pita bread
Reference:
Gibala
M.J. (2007). High-intensity interval training: New insights. Gatorade Sports Science Institute Sports Science Exchange, 20, 2.
Wednesday, March 25, 2015
• SAN DIEGO, CA 92103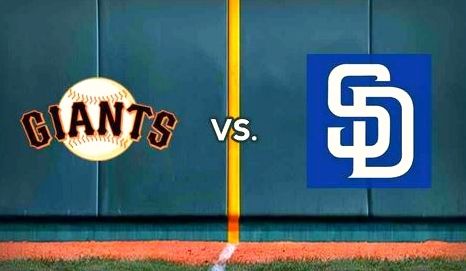 Padres Host World Series-Winning Giants in Opening Series
Sunday, April 21st, 2015

No team underwent a bigger offseason makeover than the San Diego Padres, and you'll get your first look at the new squad as they host a season-opening series against the defending World Series Champion San Francisco Giants at Petco Park. The Giants are coming off their third World Series in five years, and with ace pitcher Madison Bumgarner, they look strong once again. But the Padres will counter with powerful outfielders Matt Kemp and Justin Upton, and No. 1 pitcher James Shields. Come out and support the Friars as they battle their NL West rivals in this early season showdown!
Wednesday, March 11, 2015
• SAN DIEGO, CA 92103
Does it feel like no matter what you do in the gym, you just aren't moving forward? Nothing is more frustrating than hitting a progress plateau, but sadly, it's something that virtually every gym-goer will face at some point in his or her fitness career.
Things were going along great and then results just seemed to come to a halt. You haven't changed anything, so why aren't you seeing the results you want?
The reason is precisely this: You haven't changed anything.
Remember, the whole point of your workout is to get your body to adapt to a training stimulus. This means your body builds itself up so that you can comfortably do what you are asking of it. This is the process of progression. So once adaptation has taken place, if you continue to do the same thing over and over again, you aren't giving your body anything further to adapt to—thus, it maintains the status quo.
Here are four ways that you can help get unstuck from that plateau, and start seeing results again:
Change Your Rep/Weight Scheme
Think the only way to progress is to add more weight? In some cases, this isn't the best solution. You might be at a sticking point where you just can't lift any more weight, but yet the weight you currently lift isn't challenging enough. What then? It's time to adjust your rep range. If you were doing sets of 8 reps, try doing sets of 10 or 12 reps. You may even need to decrease the weight slightly as you do this, but that's fine. The increased rep range is going to provide a new challenge for the body and something it needs to adapt to.
Utilize Drop Sets
Drop sets are another great way to get through a strength plateau. Can't get to that next level? Try this for two to three weeks and then see if you can progress. To perform drop sets, start with your normal standard set using the regular weight you lift. Then, immediately after the first set is done, drop the weight by 5 or 10 pounds. Perform a second set. Once that set is done, drop the weight one more time and then perform as many reps as you can on that third and final set. This should bring you to the point of full exhaustion, upon which you can rest before repeating a second time through. Just avoid doing any more than two drop sets per session, as they are highly taxing on the body.
Try A New Piece Of Equipment
Sometimes what your workout really needs is a new form of training. If you always lift using dumbbells, for instance, try using a barbell next time you're in the gym. While it's a small change, often it's enough to see results. Switching over to weight machines may also be an option if that's what you prefer. As long as you're still stressing the muscle and providing an overloading stimulus, you'll see results.
Take One Week Off
Finally, the last thing that may be needed to help you get past a plateau is to take one week off entirely. If you are on the verge of overtraining—a state where the body is not quite recovering as well as it needs to between each workout session—this will completely halt your progress as well. Take one week off and don't be surprised if, when you come back, you feel stronger than ever.
These fast, simple ways should help you get past any progress plateau. Use one of these tricks the next time you're feeling stuck and frustrated, and not seeing results.
Tuesday, January 20, 2015
• SAN DIEGO, CA 92103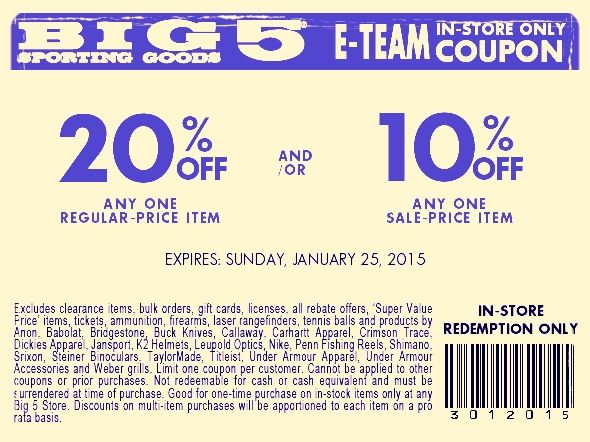 SAVE 20% OFF any one regularly priced item or 10% OFF any one sale priced item
Tuesday, January 06, 2015
• SAN DIEGO, CA 92103
Understanding Muscle Tone and What Makes a Muscle "Defined"
In order to chose the most effective route to increasing your muscle tone, you must have an understanding of what muscle tone is in the first place. Muscle tone is residual tension in a relaxed muscle. What that means is that your nervous system is tensing the muscle to a certain extent while you are in a relaxed state.
Muscle Tone is a Byproduct of An Alert Nervous System
Basically a body part with great muscle tone has a strong mind-to-muscle link in that body part. If someone wants more muscle tone in a particular part of their body they need to increase the efficiency of the nerve impulses to that body part. Keep in mind that muscle tone is not a "muscle fiber" issue, it is a "nervous system" issue. This is the number one mistake that people make in their quest to increase muscle tone.
Why the "Light Weight and High Rep Approach" Isn't Effective
Lifting light weights for high reps is the conventional advice that trainers tell clients to increase muscle tone. Lifting light weights gives you an illusion of increasing muscle tone. High reps generally give the muscles a great pump. When the muscles are pumped up they will look more toned, but when the pump is gone the muscle tone is gone. If you want muscle tone for the hour you are in the gym then lifting high reps and light weights will let you accomplish that goal. If you want great muscle tone 24 hours a day, then you need a different approach.

Lifting Heavy Will Make Your Nervous System More Efficient and Increase Muscle Tone
The only way to lift heavier weights is to increase your muscle size -or- increase the efficiency of your nervous system. If your goal is muscle tone, then you should try to get progressively stronger without putting on size. A great way to do this is to lift for 3-5 reps for 5 sets or so. Do a basic strength workout, but then hit the cardio really hard after that workout. Keep your calories low as well.
Why Don't Most Strength Trainers Have Great Muscle Tone?
Most of the guys you see in the gym who are lifting heavy are also not doing any cardio and they are eating a ton of calories. They are trying to get as big and strong as possible. That shouldn't be your goal! If you want to get unbelievably defined then focus on gaining strength while losing weight.
Learn a Lesson from Olympic Level Athletes
If you have ever seen a middleweight boxer in person these guys are unbelievably ripped...so are gymnasts. These guys focus on gaining strength while maintaining or losing weight. These athletes have unbelievable muscle tone as a byproduct of their training. They aren't even focusing on muscle tone, yet they have more muscle tone than most bodybuilders. Keep in mind that most of the pictures you see of bodybuilders are after they have pumped up and have dehydrated themselves almost to the point of heart failure.
Lift Heavy, Get Stronger and Increase Muscle Tone...What's Not to Like?
Follow a basic strength training program and hit cardio hard. Train like an elite athlete and you will create an amazing body. Leave all that "pumping up" nonsense to the Mongoloid bodybuilders.
Thursday, December 11, 2014
• SAN DIEGO, CA 92103
When I first got into the muscle building scene I was overwhelmed by the amount of different training programs, bodybuilding supplements, diets, articles and information there was out there. There were so many conflicting diets and training programs available and I had no idea what I "should" be doing. The result of this was about 6 months in the gym with little gains and almost no motivation to workout anymore.

I was at a complete loss and about to throw in the towel and give up. Then a guy in the gym gave me a magazine and told me to read the article in there about body types. So I did and it opened my eyes up to the reason why I wasn't making any gains in the gym.

I am a true ectomorph (classic hardgainer) and my bodyweight was 60.2kg (132.5lbs) when I first walked into a gym. I had no idea about body types back then. I assumed (like most beginners do) that the more I worked out the bigger I would get. Thinking that "more was better" I started following a program designed for an elite bodybuilder. This resulted in gains of about 1.7kg in 6 months.

After reading the body type article in that magazine I started to understand more about how my body type worked, my metabolism, and gaining weight. Being an ectomorph I need to focus on calorie intake, long rest periods, and minimum cardio. It was only then I started making some real gains and I've never looked back.

So it's important to be able to identify and understand your body type. Different body types require different training methods and diet plans. So listed below are the 3 male body types: ectomorph, mesomorph and endomorph, along with their characteristics.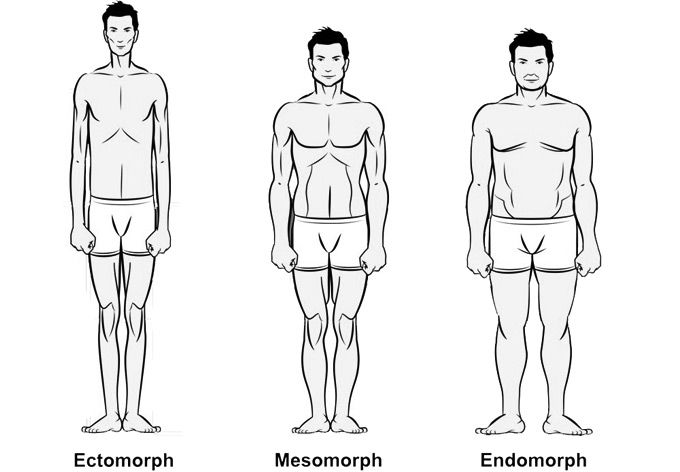 Ectomorph
An ectomorph is a typical skinny guy. Ecto's have a light build with small joints and lean muscle. Usually ectomorph's have long thin limbs with stringy muscles. Shoulders tend to be thin with little width.

Typical traits of an ectomorph:
Small "delicate" frame and bone structure

Classic "hardgainer"

Flat chest

Small shoulders

Thin

Lean muscle mass

Finds it hard to gain weight

Fast metabolism
Ectomorphs find it very hard to gain weight. They have a fast metabolism which burns up calories very quickly. Ecto's need a huge amount of calories in order to gain weight. Workouts should be short and intense focusing on big muscle groups. Supplements are definitely recommended. Ectomorphs should eat before bed to prevent muscle catabolism during the night. Generally, ectomorphs can lose fat very easily which makes cutting back to lean muscle easier for them.
A mesomorph has a large bone structure, large muscles and a naturally athletic physique. Mesomorphs are the best body type for bodybuilding. They find it quite easy to gain and lose weight. They are naturally strong which is the perfect platform for building muscle.
Typical traits on a Mesomorph:
Athletic

Generally hard body

Well defined muscles

Rectangular shaped body

Strong

Gains muscle easily

Gains fat more easily than ectomorphs
The mesomorph body type responds the best to weight training. Gains are usually seen very quickly, especially for beginners. The downside to mesomorphs is they gain fat more easily than ectomorphs. This means they must watch their calorie intake. Usually a combination of weight training and cardio works best for mesomorphs.
The endomorph body type is solid and generally soft. Endomorphs gain fat very easily. Endo's are usually of a shorter build with thick arms and legs. Muscles are strong, especially the upper legs. Endomorphs find they are naturally strong in leg exercises like the squat.
Typical traits of an Endomorph:
Soft and round body

Gains muscle and fat very easily

Is generally short

"Stocky" build

Round physique

Finds it hard to lose fat

Slow metabolism

Muscles not so well defined
When it comes to training, endomorphs find it very easy to gain weight. Unfortunately, a large portion of this weight is fat not muscle. To keep fat gain to a minimum, endomorphs must always train cardio as well as weights. Usually supplements may not be needed as long as the person has a high protein intake in their diet.

A Combination of Body Types
These body types aren't set in stone. In fact, most guys have a combination of two body types. These combinations are either ectomorph/mesomorph or mesomorph/endomorph. It is not uncommon to find a pure mesomorph that gains weight like an endomorph for example.

So which body type are you?
Given the information above you should be able to identify your body type. You may also want to optimize your diet and training to suit your body type.


Friday, November 14, 2014
• SAN DIEGO, CA 92103
ADIDAS STANDARD BENCH WITH 100-LB. WEIGHT SET on SALE now for $129.00 (reg. $179.99)
SALE ENDS Nov 20, 2014


DESCRIPTION

This adidas Standard Bench with 100-lb. weight set includes everything you need to develop major muscle groups. Tough, versatile, and comfortable with a weight capacity of over 600 pounds, the ADI-3110I is equipped with a traditional 4-position incline bench and comfortable, high-density seat and back pads. Plus, this standard bench has everything you need to develop all major muscle groups in your chest, legs, arms, back and abs. Includes a preacher curl pad, total leg developer. A 100-lb vinyl weight set with standard-size barbell and 6 weight plates complete the package.
PRODUCT FEATURES

100-lb vinyl weight set included

Adjustable incline

Sturdy design with chip-resistant, powder-coated finish

High-density foam for extra comfort

Dual-function leg developer and preacher curl pad