Sunday, October 09, 2016
• Maywood, IL 60153-3328
Selecting a Personal Trainer can be challenging. Many times the more options you have, the more confusing the situation becomes. What makes this Personal Trainer in more demand than that Personal Trainer? Price? Ability? Track record? Sure, they all factor in when grading fitness professionals, but here are 7 additional things to consider when weeding out potential Personal Trainers to help you reach your fitness goals.
1. Education / Certification – Most credible fitness professionals hold personal training certifications. Many fitness professionals also have advanced degrees in exercise science, kinesiology, nutrition etc. Some also possess additional certifications in biomechanics, weight loss, special populations, corrective exercise and / or sports performance. The National Commission for Certifying Agencies (NCCA) is the accreditation body that sets the standards that must be met by organizations offering certification programs. By definition, a certification program is designed to test the knowledge, skills, and abilities required to perform a particular job, and, upon successfully passing a certification exam, to represent a declaration of a particular individual's professional competence. In some professions, certification is a requirement for employment or practice. Many fitness facilities only hire Personal Trainers with NCCA accredited certifications; however some facilities aren't as stringent. You owe it to yourself to know who you trust your body with. If you're sick and need medical attention, wouldn't you feel safer knowing the person writing your prescriptions isn't "self-certified"?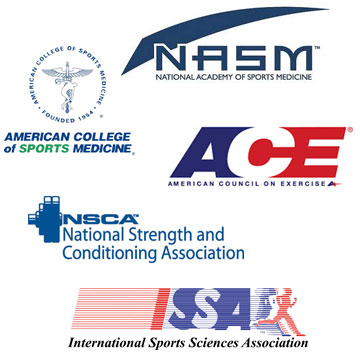 2. Personal – Like the title implies, a Personal Trainer should be "personal", tailored to fit your fitness goals. One size does not fit all. Are you trying to gain mass? Lose weight? Improve performance? Your trainer should consult with you regarding your fitness journey and the results you have in mind and possess the skillset to strategize the safest route for you to arrive there. Sounds like common sense right? Unless Grandma is in superior shape, it's most likely not the best choice for her to perform tire flips, med ball slams and resisted sprints.
3. Rapport - The good news is, fitness professionals love working out. The bad news is, not too many others do. Some people actually hate it. How strong is the connection between your Personal Trainer and you? Do you get along? Does he/she focus on your goals and work with you to ensure your progression? A good Personal Trainer has the moxie to encourage and motivate clients to perform better inside and outside of the gym. A workout usually last an hour or less, so success hinges on the remaining 23 hours in the day. Are you being held accountable? Do you prefer a drill sergeant approach or a more laid back coaching style? It matters.
4. Professional - Etiquette, well mannered, punctual, ethical, well prepared, good communicator, tactful. If you aren't using these words to describe the traits of your Personal Trainer, consider making a change.
5. Reputation - What are people saying about your Personal Trainer? What connections and contacts do they have? Check references and online reviews. If they've helped shape lives in a positive way, I'm sure the benefactors have no problem telling the world about it. Is he / she respected among their peers? What organizations do they belong to? How current are their credentials? Most certifications require a certain amount of continuing education unit or credits every two to three years. The fitness industry is extremely progressive. New modalities and apparatus emerge seemingly every other week. If the last personal training certification he/she obtained expired in 1990, they have some serious catching up (and explaining) to do.
6. Quality Over Quantity - I mentioned above that the fitness industry is progressive. That being said, the 7 primal movement patterns of the human body haven't changed (squat, lunge, push, pull, twist, bend,gait). Understanding good form, appropriate rep range, intensity, heart rate etc. are tools most personal trainers have in the tackle box. An outsider looking in might confuse the "cool, sexy exercise" with being the most effective or efficient. Just because you've never seen it done before doesn't mean it's the best choice for you. The best trainers are educators and won't hesitate to provide detailed explanations of an exercise's purpose and have the appropriate progressions and regressions at the ready. Increasing the level of difficulty doesn't automatically increase results. It does increase your risk of injury. Take heed.
7. Appearance - Walking the walk. Personal Trainers need to practice what they preach. That doesn't necessarily mean 3% body fat and a chiseled physique, but how committed would you be to a fitness professional that needed to lose more weight than you?