Sunday, May 19, 2013
• B4C 2N2, CA
Whether you earn your living working up a sweat, or squeeze in workouts when you can, it's easy to fall prey to eating errors that unintentionally hold you back from getting the most out of your workouts. Here are five common missteps I see, and how to correct them to reap the rewards of your hard work.
Eating too little fat
Despite my recommendations to include good fats at every meal, like avocado, nuts, seeds, and coconut oil, some of my clients remain fat phobic, and will scale back, fearing that fat is "fattening." But the truth is, getting enough fat is a smart strategy for both sports nutrition and weight control, because fat: delays stomach emptying, so you feel fuller longer; increases satiety, to shut off hunger hormones; boosts antioxidant absorption, which in emerging research is related to leanness; and ups metabolic rate, to help you burn more calories. In fact, fat is one of the most vital nutrients in your diet, because it's a structural part of your cells, which means you can't heal a cell or construct a new one without enough fat to perform these important jobs. Cutting back too much can result in fatigue, chronic hunger, or a lack of satiety, irritability, depression, a weaker immune system, and an increased injury risk. So even if you're trying to reduce your body fat percentage, don't be afraid to add almond butter to a smoothie, top your salad with avocado, and sauté your veggies in extra virgin olive oil. Filling the fat gap can be the key to finally seeing results.
Using a sports drink when you really don't need one
If you sweat heavily, work out for more than 90 minutes, or exercise in hot, humid conditions, reaching for a sports drink rather than plain water is a smart way to keep hydrated, stay fueled, and replace the electrolytes lost in sweat. But if you're exercising for less than an hour and a half, in a climate-controlled gym, plain water should be fine. The carbs in sports drinks are designed to keep you going when you can't stop to eat, but if your muscles don't need the fuel, just one 20 ounce bottle means consuming a surplus 35 grams of sugar, the amount in about 20 gummy bears. And while unsweetened coconut water is a little lower, an 11-ounce jug still contains 15 grams of potentially unneeded carbs.
Not eating after a workout because you're afraid to "eat back" what you've burned
While it's true that overcompensating for a workout by eating too much can prevent you from shrinking your fat cells, striking the right balance is key. Working out takes a toll on your body, and having the right raw materials to heal and repair the wear and tear is important for seeing results. In other words, it's not just the training itself, but the healing from the training, that mends muscles, boosts metabolism, and makes you more toned and fit. So while a good hard workout isn't a license to sit down to a big plate of pasta, or eat dessert every night, you should be eating something afterwards, with a goal of delivering the nutrients your body needs to properly recover.
Only eating protein post workout
While protein is a key recovery nutrient, it's only one piece of the puzzle. In addition to a lean protein source, like a smart phone-sized portion of fish or chicken or a scoop of lentils, you should aim for plenty of produce (to replenish nutrients and supply antioxidants), a healthy fat source (which also helps muscles heal and optimizes circulation), a small serving of a whole grain, like wild rice or quinoa (to replete glycogen, the carbohydrate stored in muscle tissue, which serves as a primary fuel source during exercise), and of course fluid, preferably good old H2O (to rehydrate). If you exercise after work, a great post-workout recovery dinner would be a stir-fry made with chicken, shrimp, or organic tofu, along with a variety of colorful veggies, over a small portion of whole grain rice, topped with sliced almonds or black sesame seeds. For a simple aromatic stir-fry sauce, that's not loaded with sugar, whisk together a few tablespoons of brown rice vinegar, with a splash of fresh squeezed citrus juice (like tangerine, or blood orange), and a dash each of fresh grated ginger, minced garlic, and crushed red pepper.
Doubling up on recovery meals
For my pro athlete clients, I highly recommend eating something like an all natural bar or shake within 30 minutes of the end of a game or a tough training session whenever possible, because starting the recovery process within a half hour has been shown to help maximize healing. But employing this strategy if you're not a pro can wind up working against you. For example, if you munch on a bar or grab a smoothie on the way out of the gym, then go home and eat dinner, you may be in recovery overkill. While it might not register as a meal, a bar with 30 grams of carbohydrate, 5 grams of fat, and 10 grams of protein is like eating a small turkey sandwich with mayo. And a smoothie can be the equivalent of three to four handfuls of fruit, plus a container of yogurt. Downing these "snacks" just an hour or so before eating a regular dinner, can mean giving your body far more than it needs for recovery, which results in feeding your fat cells, rather than shrinking them. If you're going to be eating a meal with an hour of leaving the gym, skip the bar and shake. And if it's going to be a little longer, munch on something like almonds, which supply some protein, good fat and nutrients, to tie you over.
Sunday, May 19, 2013
• B4C 2N2, CA
Are Egg Whites Healthier Than Egg Yolks?
Egg White vs. Egg Yolk: Which Is Healthier?
Chock-full of protein, eggs are a quick and easy way to get protein any time of the day. From omelets in the morning to quiche at night, you may be shying away from the yolks to save calories and cholesterol. The yolk may contain all the fat, but it also contains most of the vitamins and nutrients. Take a look at the comparison below to see what you may be missing when you hold the yolks.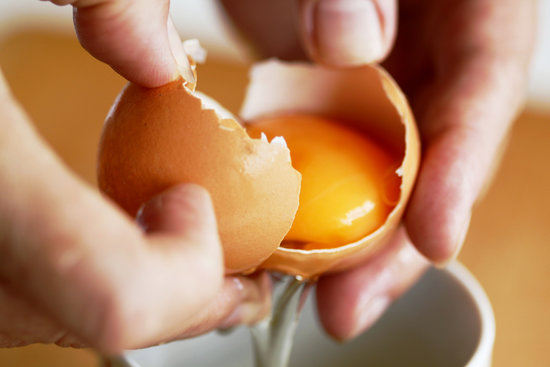 | | 1 egg white | 1 egg yolk |
| --- | --- | --- |
| Calories | 16 | 54 |
| Total fat (g) | 0 | 5 |
| Saturated fat (g) | 0 | 2 |
| Cholesterol (mg) | 0 | 210 |
| Sodium (mg) | 55 | 8 |
| Carbs (g) | 0 | 1 |
| Fiber (g) | 0 | 0 |
| Sugars (g) | 0 | 0 |
| Protein (g) | 4 | 3 |
| Vitamin A (IU) | 0 | 245 |
| Vitamin B12 (mcg) | 0 | 0.3 |
| Vitamin D (IU) | 0 | 18.2 |
| Calcium (mg) | 2.3 | 21.9 |
| Folate (mcg) | 1.3 | 24.8 |
| Potassium (g) | 53.8 | 18.5 |
| Selenium (mcg) | 6.6 | 9.5 |
| Omega-3s (mg) | 0 | 38.8 |
The yolks are where it's at if you're looking to up your intake of vitamins A, B12, and D, as well as your daily calcium, folate, and omega-3s. If it's cholesterol you're worried about, the recommended limit is about 300mg a day. That means you could enjoy an egg a day if you wanted to, but it's important to be mindful about how much meat, cheese, and other dairy products you eat during the rest of the day.
Sunday, May 19, 2013
• B4C 2N2, CA
Want Sexy Abs?
Abs, Circuit Training, NutritionTips
Training your core is about more than just developing a six pack or obtaining a flat stomach. A strong core helps us to have good posture, eliminate back pain, improves balance and physical performance in our daily lives. Also, studies show that carrying fat around the midsection is more dangerous than carrying fat in your thighs, by increasing the risk of certain diseases such as heart disease and diabetes.
In order to have a six pack, you need a low body fat percentage, so do not get discouraged if you can't find yours – not many women can obtain a really low body fat level – and it isn't healthy to have a body fat level lower than 14% for a long period of time. Lowering your body fat is 80% Nutrition, 10% Training, and 10% Genetics. To rid your stomach of body fat you need to eliminate added sugars, alcohol, and excess sodium from your diet. Along with cardio and weight training, this will help to lower the fat you may carry around your midsection.
Do each of these moves for 60 seconds ea. Perform 3 rounds.
Plank: Get onto knees and elbows. Step your legs behind you to make a line from your head to your heels. Draw you abs in and hold tight. Do not let abs droop at any time.
Bicycle: Lie on floor, raising your knees over your hips, legs bent. Raise your shoulders off the floor and extend your right leg. Next, extend your left leg while bringing your right leg towards chest, touch elbows to knees as they draw in.
V-Sit: Sit tall with your feet flat on floor and hands lightly resting behind your thighs. Staying tall, lean back at your hips to make a V-shape with your body. Extend your legs out while leaning back, then simultaneously pull your legs towards your chest while raising your chest to meet your thighs, then extend legs and lean back again and repeat.
Supermans: Lie face down on floor, arms extended over your head. Simultaneously lift your legs and your arms upward, pressing your hips into the floor.
Perform routine every other day, or 3 times a week.
Some foods to introduce into your abs diet that help stave off bloat are asparagus, cucumbers and romaine lettuce.
Thursday, May 16, 2013
• B4C 2N2, CA
So what is the best way to lose fat? Without a doubt, nothing tops the most basic approach: eat less calories, eat whole food sources, engage in resistance training (to build lean muscle and burn more calories), and throw in some HIIT (High Intensity Interval Training) for good measure. Based on my experience and astute observation of my peers, nothing beats this strategy for effectiveness.
What about all of the other hoopla regarding fat loss? If you pick up a magazine or watch television, within a few minutes you'll hear about the next "weight loss" gimmick or theory. In fact, every time I turn on Dr.Oz it seems like almost every topic has something to do with "being thin". This topic is a multi-billion dollar industry and many companies (and individuals) want to capitalize and "sell the dream". Let's take a look at some of the most common misconceptions, and dissect the validity of each.
Fat Loss Misconception #1: Carbohydrates are bad for you
I can't stand when I see this plastered all over the media, and it infuriates me even more when another coach prescribes these methods to a client.
First of all, carbs are NOT bad for you. In fact, carbohydrates are the body's principal source of fuel, and they are an essential macronutrient that your body needs. Depriving the body of them will cause your internals to run awry.
There are plenty of "no carb" approaches in which the principal theory is to put the body into a state called "ketosis", where it uses fat as its main energy source (instead of what the body normally uses – glucose from carbs).
But the problem here is that, if you don't manage to keep up with your increased protein and nutritional needs, the body will start to use the protein from your valuable muscle tissue as its fuel source instead. And when this extremely valuable tissue gets burned up, your metabolism starts to slow down, leading to fat gain.
So don't stop eating healthy, whole food sources of carbohydrates. Carbs are best consumed in the morning and immediately after a workout.
Next: Eating at Night…misconception #2: Avoid eating at night time
It's ideal to follow your body's natural biological and metabolic rhythms, and to eat during the times when you are awake, active and burning the fuel you are putting in to your body. Typically, this is during the day time.
But at the end of the day, it's really about how many calories you consume. If you burned more calories than the amount you consumed, then you'll be on your way to losing fat regardless of what time of the day you eat.
However, I would recommend avoiding starchy carbohydrates late at night, and to save those for the early morning when your body is more insulin sensitive.
Next: Eating Fat…misconception #3: Eating fat makes you fatter
.
Let's get this straight – the right fats are essential for fat loss. I'm talking about Omega 3s, almonds, olive oil, and salmon. All of our cells are made from fatty surroundings, and without these fats, your health will definitely be compromised. The benefits of omega-3 fatty acids include enhanced aerobic metabolism, increased energy levels and stamina, increased exercise duration, improved release of beneficial growth hormone, and improving recovery time, just to name a few.
So the bottom line – you need fat to get thin.
Next: Cardio for fat loss…Fat loss misconception #4: You need to do a lot of cardio to lose weight
Cardio can play a part in total calories burned for the day, putting your body into a negative energy state that leads to fat loss.
But how important is it? I would rank cardio near the bottom of importance with regards to fat loss, behind i) diet, ii) resistance training, and iii) high intensity interval training (HIIT).
Working out with weights will burn far more calories than sitting on a bike or walking on a treadmill. Or, for even more efficient and effective results, combine resistance training with a strategic nutrition plan for fat loss. In fact, studies have shown that the longer an individual relies on a treadmill for fat loss, the more the body adapts to the workload and becomes more efficient at storing fat!
Cardio and fat storage? No thanks. Cardio is a great "top up" in your program, but should definitely not be used as the principal catalyst in your fat loss goals.
Next: Weight Loss Shakes…misconception #5: Miracle shakes cause fat loss.
The advertising on particular shakes has gotten out of control. My issue with shakes is it DOESN'T trigger fat loss, while the advertising claims cleverly dance around regulations. In fact, "independent distributors" of these products can claim anything on Social Media sites because it is unregulated. I've even seen claims that a particular shake can cure diabetes. Ridiculous!
I certainly use – and even recommend – protein shakes for convenience, if you're following a strategized and balanced nutrition plan. But I stress the "balanced" part here. If you are not on a plan and are hoping these drinks will cause you to lose weight single-handedly, then save your money. Avoid artificial food sources, eat real food and moderate your portions.
Next: Detox for fat loss…Fat loss misconception #6: Cleanses burn fat.
The story here is very similar to misconception #5. The purpose of a cleanse is to remove toxins more thoroughly from your body. The principal ingredient in most of these cleanses is fiber. If you have an adequate amount of fiber in your diet, drink the right amount of water and eat clean whole foods, you won't need to resort to consuming cleanse shakes. Save your money.
Next: Sit-ups for belly fat…
Fat loss misconception #7: Sit-ups eliminate belly fat.
If you have belly fat, no amount or variations of sit-ups are going to trim that down. Quite simply, "You can't flex fat" is commonly echoed amongst myself and my peers.
To lose fat, you need to diet. Add some resistance training for some metabolism-boosting muscle and you'll get to that flatter, washboard stomach faster. Plain and simple.
So there you have it – 7 Fat Loss Misconceptions dissected to help you navigate through all of the marketing claims of getting thin.
Friday, May 10, 2013
• B4C 2N2, CA
Who doesn't want flawless, beautiful, glowing skin? There are so many options when it comes to taking care of your skin and keeping it youthful and blemish free. Being a woman I know firsthand how many face washes, serums, anti-wrinkle creams, tightening creams, exfoliating gels, toners, peels and masks there are out there, and in my opinion, it leads to confusion and overspending ensuing a huge dent in our bank accounts! Do these products really work? Do they really make a difference? As a Registered Nutrition and Wellness Specialist, I know that some vitamins in creams and lotions can help improve your complexion but if you really want to have beautiful skin you have to start on the inside. Even though acne and wrinkles have different causes, good nutrition provides a huge impact on helping to minimize or prevent both these problems and enhance your skin's natural beauty.
The best defense against radical damage of oxidation is a diet rich in vitamins, minerals and plenty of fresh filtered water. Research suggests that certain antioxidants - vitamin C, vitamin E, selenium, and vitamin A (in the form of beta carotene rich foods) - nourish and protect skin to extend its youthful appearance.
Vitamin C - is important for the production of collagen and protects cells from free radical damage. Studies have shown people who eat vitamin C-fortified food; their skin was better able to fight off oxidative damage. That said; replenish your skin's vitamin C stores by eating plenty of vitamin C-rich fruits and vegetables on a daily basis. Good sources include peppers (red/green/yellow), citrus fruits (oranges/grapefruit/lemons/limes), also kiwi, strawberries and broccoli.
Vitamin E - helps protect cell membranes and guard against UV radiation damage. Some research suggests that vitamin E may work in combination with vitamin C to provide an extra boost of anti-aging skin protection. However, because recent studies have raised some questions about the safety of vitamin E supplements, these nutrients should come from your diet, not from pills. I recommend you stick with food sources like wheat germ, dark leafy greens (mustard greens/spinach/swiss chard/kale), nuts and seeds.
Beta Carotene - Another antioxidant vital nutrient for skin wellbeing is beta carotene, which is converted to vitamin A in the body. Beta carotene/vitamin A is involved in the growth and repair of body tissues, and may protect against sun damage. In extremely high doses, straight vitamin A from supplements can be toxic to the body, sources from food is always the best
choice. Eat beta carotene from foods like sweet potato, pumpkin, squash, carrots, mangos and cantaloupe are all rich in vitamin A and great for your skin.
Omega-3 Fatty Acids – Are healthy fats that help maintain cell membranes creating barriers allowing water and nutrients in, and keeping toxins out. Omega-3s also protect skin against sun damage. Best sources of omega-3 for skin include wild salmon, hearing, mackerel, sardines, eggs, oysters, walnuts and ground flaxseeds.
Supplements – Preferably you should seek to get all essential vitamins, minerals and fats from food as it absorbs quicker and is utilized by the body more efficiently. I know many people have very hectic schedules that can hinder proper nutrition. In this case you can use a multi-vitamin that contains 100% DV for vitamins A (optimally 50-100% coming from beta carotene and/or mixed carotenoids), C, and E, and which provides for about 55 micrograms selenium. In terms of fish oils look for a brand that has at least 300mg of EPA and 200mg of DHA per capsule.
Water – Filtered water in my opinion is the most important of them all. Water rejuvenates and hydrates skin cells helping to move toxins out and nutrients in. When the body is properly hydrated, it sweats more efficiently, which helps keep the skin clean and clear. Drink at least 2-3 litres of fresh filtered water per day for brighter clearer looking skin.
Try my 'Beauty-Blast Smoothie' to provide an explosion of antioxidants for the skin (Vitamin C, E, A and Omega-3's). This is the perfect morning shake keeping you energized and helping towards beautiful, flawless, glowing skin.
Ingredients:
2 oranges OR 1 grapefruit peeled, cut into sections
½ cup of mango
½ cup of strawberries or kiwi
1 carrot peeled and shredded
½ cup of plain yogurt or ½ cup of unsweetened coconut milk
2 tbsp of wheat germ
2 tbsp of flaxseed
1 tbsp of fresh lemon juice
1 tbsp of honey or stevia
Add a scoop of vanilla protein (Optional)
If you add protein include 1 cup of filtered water
How to make:
Place all ingredients into a blender or food processor and blend until smooth
The skin alone is considered the outside indicator of inner health so by putting on expensive creams, lotions and treatments on the outside of the skin it won't alleviate problems that stem from inner nutritional deficiencies. Consuming the right foods and avoiding the wrong ones can reveal beautiful, youthful-looking skin without the high price tag of expensive cosmetics. Simply eat your way to flawless, beautiful skin.
Tuesday, May 07, 2013
• B4C 2N2, CA
8 Reasons Hills Make You a Better Runner
If you're one of those runners who shies away from the incline button on the treadmill or picks an outdoor route that specifically avoids any type of hill, then you could be missing out. Taking on the challenge of running both uphill and downhill is a surefire way to make you a better runner, and here are eight reasons why.
Uphill:
Increased speed. Working against gravity taxes your muscles, making them work harder than you would on flat ground. With stronger quads, hamstrings, glutes, and calves, you'll find that you'll be able to run faster.
Injury prevention. Runner's knee is a common ailment that can make you hang up your sneaks. Aside from doing not-too-exciting wall squats to strengthen the thighs, running up inclines will also do the trick (and burn way more calories at the same time).
Stronger upper body. Since your legs fatigue much easier on uphill climbs, you will naturally pump the arms more to take some of the workload off the lower body. This not only strengthens your upper body — making running a more total-body workout — but it also reminds you to utilize your arms and core when running on flat surfaces, which can prevent overuse injuries in your legs.
Endurance. Since running up steep hills is naturally more challenging than running on flat surfaces, both building lower-body muscles and increasing your lung function will enable you to run longer with ease.
Downhill:
Increased speed. The pull of gravity makes your quads and hamstrings work much harder to slow down your pace to prevent your feet from pounding the ground with each step. And as mentioned above, having stronger thigh muscles is one way to build speed and power.
Injury prevention. Working with the pull of gravity also targets your shins, and strengthening the front of your lower legs can prevent shin splints.
Much-needed rest. The momentum of gravity makes running down hills feel easier, which can give your muscles a break during a run that not only allows you to conserve energy, but can also prevent injuries from pushing the same muscles too hard.
A stronger core. On the downhill, it's even more important to engage your core to brace knees against the added impact a downhill run can have on the body.
Saturday, May 04, 2013
• B4C 2N2, CA
Fit -Tip
Stay- Cellulite- Free -with the TOP 10 CELLULITE-BUSTING FOODS
- Share to motivate your Friends.
Are you one of those women with skin like "orange peel" on your butts, tummy or legs? Don't worry you are not alone there are over 90% of post-adolescent women out there with same "orange peel" like skin on their legs and butts. Bad news is that there is no clear-cut cure or quick fix for it but if you address the basic causes through your diet you can significantly lessen its appearance and open the way for smoother skin. Here is the list of Top 10 foods that will burst that "orange peel" off your butts:
Berries
Vitamin C helps to boost the skin's collagen levels. So, one should add vitamin C in your diet to keep the skin stretched tight and camouflage the appearance of cellulite. Berries being a good source of Vitamin C and are extremely high in antioxidants which are beneficial for releasing toxic waste from the body. This toxic waste can slow down the lymphatic system of the body and can gather in the cellulite prone areas.
Asparagus
Asparagus is a food which contains the circular-boosting properties. Due to the abundance of folic acid in asparagus, it is termed as a great stress reliever. It can help in stabilizing the mood of a person as extended levels of stress can also increase fat accumulation in the body. By adding asparagus to your diet, you can reduce the appearance of cellulite in the body.
Avocados
Aging tends to increase the appearance of cellulite in the body as due to cellulite the skin starts thinning and there is a loss of elasticity in the skin. Anyone young or old, fat or thin can suffer due to this problem. For the reduction of this problem, you can try eating foods which are rich in fatty acids i.e. EFAs. These foods help in strengthening the skin and keep it smooth and supple. Avocados are the perfect example of food rich in fatty acids as they are rich in EFAs and other essential nutrients as well.
Oily Fish
Another beneficial food for keeping the skin in excellent condition is oily fish. Fish has high content of omega-3 fatty acids which helps in strengthening of the skin. It also helps in removing inflammation and the lymphatic and cardiovascular systems.
Dark Green Leafy Vegetables
Green Leafy Vegetables such as spinach are rich in lutein, which is an antioxidant. The latest research has shown that it is good for regaining the moisture of the skin and also increases the elasticity of the skin. People who are suffering from cellulite can increase their lipid levels by consuming them. Green leafy vegetables are rich in nutrients and are good for blood circulation and detoxification.
Ginger
The main cause of cellulite is poor blood circulation, so consuming foods like ginger can boost the flow of blood and can help in improving the appearance. Ginger, being good for circulation is also excellent for detoxification and also for strengthening of the lymphatic system. It can help the circulation of the toxins and lymph fluid that accumulates in the fat pockets.
Cranberry Juice
A lethargic lymphatic system is one of the chief causes of cellulite. So, those who want to reduce its appearance can try cranberry juice. By the intake of this juice you can cleanse the lymph system. This juice also helps in emulsifying the mulish fat deposits in the lymphatic system so that they can be easily flushed out of the system.
Banana
Bananas being a very rich source of potassium are helpful in reducing cellulite to a certain extent. As potassium helps in reducing water which is the main cause of cellulite so one should consume banana regularly to reduce the effect of cellulite.
Whole Grains
Whole grains are fiber rich and can essentially keep the body running perfectly. Fiber can help speed up the detoxification process and also help in flushing out the waste from the body. Consuming whole grains can also help in keeping a healthy heart and the body fit.
Papaya
By consuming plenty of fresh fruits and vegetables you can very well detox the body and reduce the appearance of cellulite. It is the best method for introducing all the nutrients in the diet. Papaya is the fruit which is a good choice for battling with cellulite. It contains potassium which helps in fighting with cellulite. It can also help in the prevention of causing damage to the body tissue as it is high in the antioxidant beta-carotene content.
Saturday, May 04, 2013
• B4C 2N2, CA
8 Super Nutrients that Slim You Down
Monounsaturated Fats
Replacing carbohydrates in your diet with monounsaturated fats will help you slim down by shuttling fat away from your midsection Where to get it: Avocados, Macadamia nuts, and olive oil are great sources of monounsaturated fats. They also come packaged with great nutrients such as antioxidants (in olive oil), fiber (in avocado), and B-vitamins (in macadamia nuts).
EGCG
EGCG or Epigallocatechin gallate is an antioxidant found in green tea (and put in most weight-loss supplements available today). EGCG can increase thermogenesis or heat production through extra calorie burning and the use of stored fat as energy. Some research also shows that EGCG can stop the growth of new fat cells.
Where to get it: The greatest weight loss effects of EGCG are seen when combined with caffeine, as it naturally occurs in green tea.
Raspberry Ketones
Raspberry ketones are an antioxidant found in raspberries that preliminary research shows have some interesting fat loss effects. Raspberry ketones can increase the production of the muscle-energizing, fat-burning hormone adiponectin as well as directly increasing the burning of stored fat.
Where to get it: You can't come close to getting enough raspberry ketones via eating raspberries so to reap these benefits you'll need to take a concentrated raspberry ketone supplement (they are inexpensive and available at more health food stores). Keep an eye out for more about raspberry ketones and weight loss as new research gets published.
Docosahexaenoic Acid (DHA)
Docosahexaenoic acid or DHA is one of the two omega-3 fats found in oily fish like salmon. DHA can stop growth of young fat cells and actually causes them to die, says research published in the Journal of Nutrition.
Where to get it: To get more DHA in your diet, you can eat more oily fish or just take a fish oil supplement. If you are a vegetarian, pick up an algae-based DHA supplement to reap the same benefits.
Acetic Acid
Vinegar, a dilute form of acetic acid, has potent glucose-lowering effects. One study in Italy found that when participants added just more than1 tablespoon of vinegar to their meal (as salad dressing) they experienced a 30 percent decrease in their post-meal blood sugar levels. Controlling blood sugar remains an essential component to weight loss and maintaining a lean body.
Where to get it: Adding vinegar to salads should be standard protocol, but if you can manage to find chocolate balsamic vinegar, it makes an excellent addition to a protein-packed chocolate smoothie.
Protein
Protein from lean sources like beef, poultry, fish, dairy, or soy are weight loss rock stars. The amino acids that make up protein cause your body to release the fat-burning and energy-stabilizing hormone glucagon. The process of digesting protein also stimulates your body to release the satiety hormone CCK. This one-two punch combined with the fact that it takes your body more energy to digest and breakdown protein compared to carbohydrates or fat makes it a must-have at every meal throughout your day.
Where to get it: The possibilities are endless, but lean proteins like Greek yogurt, cottage cheese, and organic grilled chicken strips are especially convenient.
Caffeine
Caffeine is one of the most potent weight loss compounds available to you each and every day. Caffeine blocks the breakdown of a compound call camp, which is responsible for mobilizing stored fats so they can be burned as energy.
Where to get it: If you are looking for a bigger fat-burning boost, then make sure to choose black tea over green tea or light roast coffee over dark roast for a larger dose of caffeine.
Fiber
Fiber is often touted to be a great nutrient for weight loss because it slows down digestion, allowing for sustained energy and stable blood sugar. However fiber can also optimize hormones released during digestion that are responsible for feelings of hunger and satiety.
Saturday, May 04, 2013
• B4C 2N2, CA
Many of us have overwhelming schedules juggling work, family, and life so understandably it sounds near impossible to integrate a fitness and nutrition program into our hectic world. The weight of our responsibilities will only get heavier as the years go by so the best way to cope is to lessen the weight (fat) we hold in our bodies.
If a program cannot fit into your schedule then my advice on how to get started, and what has worked best for me and my clients, is to start with small changes. These small changes will eventually turn into habits, which we ultimately integrate into our everyday life thus triggering a positive outcome.
Does the food you eat add value to your health or take away from you at a biological level? You don't have to cut out all of your the foods you love but should look at reducing the foods that don't benefit your body and health.
Here are 6 of my top tips to help you kick start your fat loss program:
1) PLAN IN ADVANCE
- Planning your meals for the week (or even a few days ahead) will exponentially increase your chance of successfully meeting your weight loss goals. By itemizing healthy meals before you go grocery shopping means you're most likely to stick to your plan. I've heard countless examples of clients coming home from work tired and hungry, only to order out completely throwing your program awry.
2) BRING YOUR LUNCH TO WORK
- Further to #1, ensure you pack your lunch! This exercises control of how many calories you consume. One research study revealed that people that eat at restaurants regularly consume more than 400 more calories per day than those that prepare their own food.
3) DON'T NEGLECT YOUR SALAD OR FRUIT
- To reduce the consumption of calories in your day, don't forget the starters to your meal. Salads (low fat, of course) or a small dish of fruit contain plenty of fibre and water so it will reduce appetite cravings. A study published in the journal of American Dietetic Association states that salad or soup can reduce your calorie consumption in your meal by as much as 12%. Even better, that bowl of soup can cut your calories by 20%.
4) DEFINITELY DON'T SKIP BREAKFAST
- I'm still surprised how many people skip this important meal. When we wake up in the morning our body is very insulin sensitive from "fasting" overnight. Skipping out on breakfast lengthens that fast causing severe irregularities with our internals and especially our moods and energy levels. More often than not, this always leads to over eating later on in the day. Having a good breakfast fuels your body so you start the day off happier and more vibrant.
5) CUT THE FAT
- This is a tough one for most people. Butter, margarine, fatty meats, french fries, potato chips, pastry dishes, cake, candy, chocolate, burgers, and pastries – everything mentioned contains saturated and hydrogenated fats. Choosing leaner meats, fish, skinless poultry, and using less oil is a great starting point.
6) FOOD DIARY
- Keeping a weekly food journal is a very powerful tool to help you see where and when things went wrong. The food diary isn't meant to be a negative tool and should be looked at as fun. For example, if we usually go off track on Friday afternoons after work (i.e after work beer, eating that burger with colleagues, etc.), it's very easy to see and make adjustments. I like to tell my clients – "CORRECT AND CONTINUE". We have so many opportunities to make changes every day. Again there is no need to beat yourself up over falling off track. The food diary will help put things in perspective.
I hope these 6 tips provide you with a clearer path in achieving your fitness goals. It will be the small things that you integrate into your lifestyle that will have the biggest outcome in your life.
Tuesday, April 30, 2013
• B4C 2N2, CA
You know better: Products labeled "sugar-free" and "fat-free" are not shortcuts to flat abs and tank-top arms. While it may be tempting to reach for the sugar-free cookies or the fat-free cheese, don't let that temptation get the best of you. Give yourself a little slap on the wrist, step away from the Oreos and hightail it out of that grocery aisle—stat!
Those "sugar-free" products may not pack any refined sugars, but that doesn't mean you're out of dangerous territory. In these products, sugar is replaced with artificial sweeteners, which are not any better for you. In fact, they're worse. Sure, artificial sweeteners don't have calories, but they're hundreds of times sweeter than real sugar, which can cause serious confusion for your body. When you eat something sweet, your body expects calories to follow. Because artificial sweeteners don't have any calories, your body goes looking for them later. (Hello, late-night cereal binge.) So remember, if you're trying to lose weight, it's best to stay away from both real sugar and artificial sweeteners. But, if the sweet tooth strikes too hard and you can't resist, allow yourself a conscious indulgence of the real thing. Watch your portion size and go for a brisk walk afterwards! Fresh fruit is nature's best candy!
Now onto fat. You may have averted the crisis of the cookie aisle, but now you've landed in a sea of salad dressings. Who hasn't tried to tweak their choice of salad dressing in an effort to lose weight? But resist that reach for the fat-free Caesar. Fat-free versions of food replace fat with sugar, which is no better an option and eventually gets stored in your body as fat anyway. And you already know that sugar-free dressings have a permanent spot in the dumpster. Keep your salad clean and yummy with good old fashioned oil and vinegar! When it comes to fat, a little of the real thing is far better than any amount of the fat-free option.
Sure, you want to avoid trans fats and saturated fats, but the general term "fat" should not always be negative. When it comes to monounsaturated fat and omega-3 fatty acids, I could scream from the mountaintop how much I love them. Yes, I love fat! Good fat burns bad fat so why not enjoy it!
Feel free to contact me if you have any questions!
http://www.resultspersonaltraining.ca/