You may think that Valentines is a 'Hallmark' holiday, that it is overrated and who needs to eat more chocolate anyways?
In spite of this, Valentine's has become a tradition in the US and around the world. Many buy flowers that are way too expensive, cards that are supposed to express your love for someone, and candy to fill the void of any missed occasions the past year. We're told that we need to buy all these things to make up for not paying enough attention to the people we love.
Everyone is running around busy with work and social engagements, and sometimes it seems we don't take time to connect with others. We don't stop, take a breather, and cherish the time we have.
So, it seems like a good idea to celebrate that one day showing your special person that…
…you care
…you love them
…they're special to you
…they're important to you
I remember…
… the days when my kids made their special Valentines cards for me (I still dig them out sometimes to remember how our life was when they were little).
… when my husband made his first Valentine's dinner for us. He made peppercorn steak and vegetables (I don't like peppercorn at all), but I still remember how proud he was of his efforts to do something special for me.
The hard part is when we get so busy and overwhelmed in our daily lives that the person you love seems to take a backseat.
What do you like to GET in everyday life that makes you feel special?
What about what you like to GIVE to others to make them feel special?
I love getting chocolates (and I eat all of them).
I love taking my husband out for a special date night to show him I care.
How about we start by doing something special for your loved one every day?
You're probably thinking, "Are you kidding, I don't have time for that!" But relationships are essential, and we need to nurture them every day.
Some small but significant steps to foster your relationships that you can start today: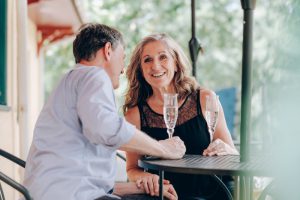 1. Wake up with a smile on your face and say "Good Morning."
2. Help with the dishes after dinner
3. Hold hands when going for a walk
4. Sit down, drink some wine and listen to how their day was
5. If your someone lives far away or is traveling, call them just to tell them you love them
All it takes for you is to slow down, take a moment, and give your significant other the attention they deserve.
If you want to learn more about fostering your relationships, you might be interested in my 7 Days to Ignite Your Spark planner. In the planner, I'll show you the exact steps to help you strengthen your relationships.
Love your day,
Heike