Monday, October 23, 2017
• Silver Spring, MD 20910
This is one of several interviews titled: "Women On The Move."
The stories are about women that made their dreams become reality. Women that live the life they want and deserve. Strong women with the focus and determination to pull out all the stops in their life. This interview, Women On The Move - The Food Truck Owner, is about how one woman took a chance to change her life.
My guest: Debbie Ciardo, Food Truck Owner + Chef of La Strada.
You can listen to the interview on itunes or watch it on Youtube, or read it here but read until the end, as we have two bonuses for you.
Women On the Move - The Interview
Heike Yates: Hey guys! I am so excited. I have a special guest today on our show, and it's the owner of La Strada, and I love to call it "Mobile", but it's La Strada food truck, and it's owner Debbie Ciardo.
HY: Welcome to the show and I am so excited to have you here.
DC: Thank you, I am excited to be on your show.
HY: Debbie Ciardo, Italian of course, is the chef and owner of the La Strada food truck. I wanted to find out how she got started to own this beautiful food truck, and why she named it La Strada? So tell us about La Strada!
DC: Oh, well. First of all, it means "The Street," which is a obvious meaning, for a food truck.
HY: Well, not if you don't speak Italian!
DC: But the other meaning is, it's one of the first Fellini movies, called "La Strada". And it had his wife, Giulietta Masina in it, and it's a really famous movie, so …that's why I named my food truck La Strada.
HY: So, the famous movie became the famous Italian food truck, and Debbie is the chef of the food truck. Now, what I was curious about is why do you love Italian food? It could have been Spanish food, or Greek food, or German food since I'm German, right? So, why Italian?
DC: I have a lot of history with Italy. My grandparents migrated from Italy. I really didn't get to know them because they were gone before I grew up. I was really little when they died. But I then had an aunt who married a relative of mine, and she came to live in the States, and she turned me into a total Italophile.
I started going to Italy to her brother's house every summer, and staying with them; he's an architect near Venice, and very interesting. His wife took me to this market every day and we cooked and I got really into it. I was always into cooking, but I really got into Italian cooking at that point.
HY: Oh, so they taught you also how to cook?
DC: Yeah.
HY: Oh, how interesting. Would you cook in their kitchen, or …
DC: Oh yeah. My aunt was a fantastic cook. Eventually I moved to Italy and worked in an aerospace company, but on the side I was learning to cook everything, talking to grandmothers. Later on, I married an Italian and I cooked for him.
HY: Do you speak Italian?
DC: I speak Italian. I have a long history in Italy. My daughter was born in Italy, so she's a citizen; she grew up in America but she moved back when she was 17. She has been living in Florence now for seven years. I go there every year and continue to learn more and more about Italian cooking while I'm there.
HY: Does she love to cook?
DC: No.
HY: Ah, so the mommy comes to cook.
DC: She weighs 98 pounds; she always ate chicken nuggets and peanut butter sandwiches when she was growing up. She's changed now that she is living in Italy and she's getting a lot more into food, but …cooking is not her forte.
Do Italian's Live Longer?
HY: So, why do you think Italians live longer? It seems like they are hearty people, what do you think is the cause?
DC: I just recently read that it's true, Italians live the longest, and there are many reasons. I mean, they constantly think about, if what they eat is good for their bodies. It tastes good too. But, they constantly think, if this affects their livers; they talk about their livers a lot …
Every single thing has a reason, and it's historic, I mean it's been going on for hundreds of years. Italians walk a lot; they don't get in their car, they live in cities mostly and they walk everywhere, so they're getting a lot of exercise.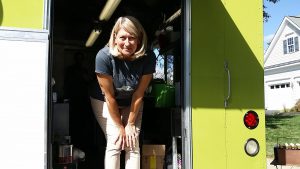 HY: It's a very different lifestyle then here in the States.
DC: Yeah.
HY: That's what I think as well.
DC: And they have a great attitude; they work to live, and they live to eat. So, you know, their whole life is built around food.
HY: And I hope wine too!
DC: And wine too.
HY: Red wine's …?
DC: Red wine is for sure good for you, so ... I try to do my part on the wine.
HY: La Strada is on the road, cooking and serving food. How did you get the idea to start a food truck?
DC: Well, I'm getting up there in years, and I was working for other people. I was not very happy, and tired of being at a desk. One of my passions is tango. I started a business selling Tango shoes and having tango shoes made.I found a shoemaker in Florence who made shoes. I am still in contact with the shoemaker but put this business is on the back burner for now.
HY: So, you got into the shoe business …
DC: I got into the shoe business first, and then I needed something more like full-time, I talked to some friends they suggested; "Why don't you start a food truck; you love to cook". You know, you don't have to put out all the money that you would have to for a restaurant and you don't have to give 100% of your time. You can work when you want. So, I started looking for a food truck.
HY: True entrepreneur.
DC: I found a company that transforms old FedEx trucks into food trucks.
HY: Oh, so this is an old FedEx truck.
DC: Yes.
HY: Oh, how cool. So who painted that truck?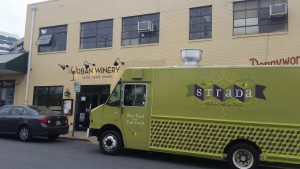 DC: Well it's actually called a "wrap", it's not even painting. It's a system where they have these giant tables and you give them your artwork on the computer. They put the design on these giant strips of like, almost like wallpaper. They place it on the truck, and then they put it in a very hot room, and it goes sshhhhlll! and it just sucks onto the truck. It just can't come off. The company that does the wrap is called: East Coast Custom Coaches. They are fabulous and do a terrific job.
HY: How cool is that? That's very cool.
HY: I always thought a wrap was something to eat, or a wrap of a show, but we're learning something new. So you've got this truck and you wrapped the truck. But you had to buy a stove, I'm assuming?
DC: Well, custom coaches looked at my menu, and designed my truck around what I was going to make. I have a flat-top grill, which is what I use to make Paninis. I have a six-burner stove, an oven and a refrigerator. They designed the whole thing so that I could make my food.
HY: We will check this out in the cooking portion of this program later!
HY: So, now you have your truck. Can I ask how much it would cost to outfit a truck like this?
DC: I would say, with the truck itself and the kitchen build in, plus the wrap, plus all my cooking equipment, plus my initial permits and licenses and all that kind of stuff, would be about $70,000. And that's for a used truck. If you get a brand new truck it would be much more expensive. I mean my FedEx truck was a 1998 that's why it was cheaper.
HY: I couldn't tell that it was an older truck. That's a big chunk of money. You raised the money somehow, you got the truck wrapped and outfitted. What would you tell other women that think, "I want to start my food truck?" What are the biggest obstacles are in opening the food truck?
How Do You Finance A Food Truck?
DC: Well, getting the money probably is the first one. Because nobody's going to give you a loan; that's a problem. I couldn't get a loan from anybody, because I never had a business before.
HY: So, no small-business owner loans, or even first-time women-owned businesses, that's very common here in Maryland where we are.
DC: The Small Business Administration, you have to match what they financially help you with. Whatever they give you, you have to match it and put that money in escrow. So, it's not a gift at all.
HY: Alright.
DC: So that's the first hurdle. Once you get over that, it's just finding places where you can park and sell your food. You know, it's according to where you are in the United States. There are some places like California or maybe down in Texas where there are lots of places to park on the street and there's a big food truck community. I'm in a county, where people are just starting to see more and more food trucks, so the hardest thing is to find places to park your truck for business.
HY: You go usually by word of mouth? Or how do you spread the word where you are parked for the day?
DC: Well, I eventually was able to, in my country there is a thing called "Montgomery County Food Trucks" to spread the word where I am parked for the day.
HY: It's called the Montgomery County Food Trucks, since we're in Maryland.
DC: So I joined that, and through this connection I started getting jobs. Because they post jobs on their website; people can go to their website and just click on you and write you. So that's how I started building my business. And then people got to know me and I had repeat customers.
HY: Very nice.
DC: I highly recommend finding an organization in your town, county or city and join it.
HY: Oh, nice that is a great recommendation.
DC: I found that nobody's cutthroat trying to block you from getting jobs; everyone's helpful.
HY: Oh, that's a good thing to know.
DC: That helps a lot.
Follow Your Dreams - Be The Woman On The Move
HY: What would you tell other women wanting to own a food truck? How would that impact their life? Or how has it impacted your life, opening the food truck?
DC: Well, you know, I'm doing it all by myself. A lot of people have a partner, which really makes it easier.
HY: Sole entrepreneur! Just like, I am here with my business, Pursue Your Spark. We have people that may help us, but bottom line, it's Debbie and La Strada.
DC: It's a lot of hard physical work. You know, I do all the cooking. I load the truck; I have to take everything off the truck at night and put it in refrigerators. So there's a lot of lifting heavy stuff. And the actual cooking, when it's very hot, it's like 30 degrees hotter in the truck than it is outside. When it's 95 degrees outside, it's just ... It's very hot, hard work.
HY: So, it's not as romantic as you see it the movies, they drive around, it's all a happy fantasy.
DC: No. Exactly. Not that movie Chef, where that guy goes across the country and parks his truck everywhere and cooks whenever he wants to.
HY: Many may have seen this movie.
DC: Which you can't do because there's no way you could get all those permits in one day. So it's thoroughly impossible.
HY: Remember ladies, it's just a movie!
DC: Yeah, it's just a movie. And also, the hardest thing is keeping good employees. Because you're paying a low wage, and it's young kids that take the job. I usually use them just a cashier, and you know, they don't show up; it's hard to get good employees. Really, really hard.
HY: Yeah, I can see that it's difficult.
DC: I don't even have anything to tell you about how you get a good employee, it's just kind of luck.
HY: How do you stay fit and in shape for your food truck?
DC: Standing all day and I live on the third floor of an apartment building with no elevator so I'm carrying stuff up and down, up and down. That builds up a lot of strength.
HY: Your job provides the exercise.
DC: I actually feel like I've built up some resistance to the heat, and to the carrying heavy things. I've probably got some more muscles. So, you know, what doesn't kill you makes you stronger.
HY: Hey, that's definitely a way to look at it. No gym, you've got everything right here. Now, what would you say the best thing about opening La Strada was?
DC: The best thing is not having a boss.
HY: Yes! I totally agree.
DC: The best thing is being in charge of your life. And that was one reason, that a food truck was good for me, because then I can be off when I want to be off; I can be on when I want to be on. I'm able to visit my daughter for five weeks in the winter.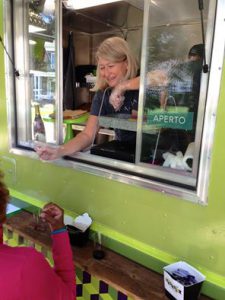 You know, if you're in a climate, like California or Arizona or somewhere you can keep your food truck open all year. In this area in Maryland, people pretty much close for December, January, February, and even part of March.
HY: Are you saving money for the time to travel?
DC: Yeah.
HY: Oh, that's wonderful; that's exactly the spirit of an entrepreneur! You work when you have work, when you want to work, and make tons of money, hopefully.
Or at least a decent amount of money, so you can afford the things you enjoy doing, like, Debbie likes to travel and to cook. What is your favorite Italian dish, Debbie?
DC: Oh goodness. First of all, I have to say, there's no such thing as Italian food. Because, it's completely regional. If you eat one thing in Venice, you're never going to eat it in Florence or Rome. And I lived everywhere; I lived in Rome, I lived down in Puglia, I lived in Venice, I lived in Torino way up in the north …
HY: Okay, get the map out, if you don't know where that is. Or, just start eating your way through Italy.
DC: It's from head to toe. And each place has a dish that I love. So, it would be really, really hard for me to pick one.
How Do You Cook On A Food Truck?
HY: Today, we're also cooking in your truck.
DC: Yes.
HY: You said you're going to make a creamy asparagus pasta for us today.
DC: Yes. You know, with pasta you can put anything on it, so one thing I want to show people is just the whole idea of how you make the pasta, in general. And then, you can top it with, if you have zucchini sitting there, or carrots, or any kind of vegetables, or ground beef, whatever you want, you can put it on pasta. It's just, you get it right if you really want to make pasta the way the Italians do. And I'm going to show you how to do that.
HY: Now with we are talking carbs. Italians are not afraid of pasta and carbohydrates?
DC: No. Not at all.
HY: Why is that?
DC: Oh my gosh. If you walk around Italy, it's not like in the old movies with the big Italian ladies. I mean, these women are tiny and they eat pasta every day. So, there's nothing wrong with eating pasta.
HY: So, no carb-phobe here, ladies. Debbie and I are going to head in the food truck, but I want to thank her for coming on the show today and sharing the experience of owning a woman-owned business, entrepreneur, La Strada the Italian food truck.
HY: You ready to go?
DC: Great, ready to go.
DC: Arrivederci!
HY: Ciao!
Watch the Youtube cooking video, to see how Debbie cooks the perfect Italian pasta and what's happening inside an Italian food truck. Click the link below to get the pasta recipe.
To reach Debbie Ciardo: lastradamobile@gmail.com
-Heike
Save
Save